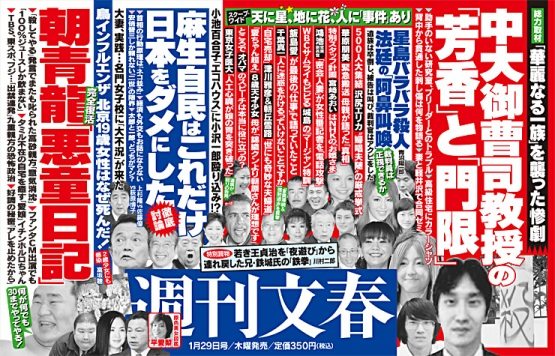 To anyone who can make out the top line of an eye chart, the resemblance between the enormous schnozzle that pokes out from traditional masks of Tengu (Japanese goblins) and a male reproductive organ in its tumescent state is unmistakable.
In olden times, the notion of being penetrated by a shiny red shaft of such monstrous proportions may have been terrifying enough to drive some more impressionable young females to a lifetime of chastity in ama dera (Buddhist convents).
But that was then, and this is now, when modern gals take a much more tolerant view of the Tengu's bulging beak. Shukan Bunshun (Jan. 29) features this excerpt from the February issue of Ai no Taken Special Deluxe published by Takeshobo.
Writing under the pseudonym "Kurima Tengu" (a play on words for 'goblin that rubs the clitoris'), the contributor relates details of her hiking expedition to Mt. Takao in the company of a sefure (sex friend).
Tengu masks could be found all over the area, she writes, and local souvenir shops offered them in a variety of sizes. She spotted one mask she particularly liked, whose nasal dimensions were roughly identical to a male organ in a state of arousal.
"But stimulating myself with the image of a holy being would surely bring down divine retribution," she writes. "So I gave up on the idea."
Still, she fantasized, wouldn't it be nice if a gentleman were willing to grasp the mask firmly and apply it for that purpose? Not only could he use it to fill the gap, so to speak, but he could simultaneously utilize his tongue to provide oral stimulation.
Armed with this intriguing idea, upon returning home she promptly went down orally on her friend's organ with up and down motions.
"I supposed he might have been a little fatigued from all that mountain climbing we did, but if anything his thing seemed a little harder than usual, and the angle was also (a heart symbol appears here, indicating approval).
"As I climaxed, the image of the Tengu mask went through my mind briefly. But when it's all said and done, there's no substitute for the real thing."
Source: "Jukujo no zasshi kara," Shukan Bunshun (Jan. 29, page 110)