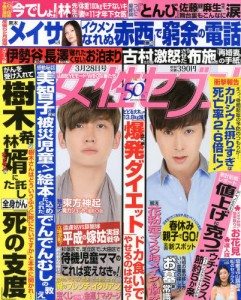 Mitsu Dan's rise to super stardom began in earnest last November with the release of her film debut "Be My Slave," an SM flick in which she stars as a seemingly conservative office lady at a publishing firm who takes a carnal interest in a new male employee.
Since then, the 32-year-old, who started in the entertainment business as a gravure (pin-up) model, has appeared regularly on variety programs and in the pages of weekly magazines. Weekly tabloid Josei Seven (Mar. 28) asks the star about her interests in SM.
"In the film, you perform in a number of bold SM scenes," says "gigolo" journalist Toru Yamaji (@yamajitoru). "How did you become interested in SM?"
"In the past, I dated a number of guys and did various things," says Dan, "and I had my own rope."
"Your own rope!" gasps Yamaji. "Where did you buy it?"
"In the world of SM, many people will purchase other goods on the Internet to avoid embarrassment," she says. "I bought it (the rope) at a specialty store in Roppongi."
Maintenance is an issue.
"For mine, I wash and dry it thoroughly," Dan explains. "But there are some people who will boil a rope and wrap it around a laundry pole to make it hard."
"When were you introduced to SM?" asks Yamaji.
"In my 20s," says Dan. "At that time, I was associating with a guy and experienced 'soft' SM. That was the start."
"What was that experience like?"
"We'd be with various costumes and handcuffs inside love hotels, and with a vibrator we had sex," she says. "My partner didn't have a lot of experience with SM either, and we tried a number of different things."
After the relationship ended, she found a new partner, a man in his 40s, who introduced her to the world of 'deep' SM — a practice that can include the shaving of pubic hair and intense rope work.
"At the outset, the binding with the rope eating into my flesh provided a strange sensation," she says. "But then I realized that the feeling is a way for a person to recognize their existence. It is a way of saying, 'I'm really here.'" (A.T.)
Source: "Eiga no SM shiin wadai no Dan Mitsu Roppongi no senmonten de mai nawa wo konyu," Josei Seven (Mar. 28)
Note: Brief extracts from Japanese vernacular media in the public domain that appear here were translated and summarized under the principle of "fair use." Every effort has been made to ensure accuracy of the translations. However, we are not responsible for the veracity of their contents. The activities of individuals described herein should not be construed as "typical" behavior of Japanese people nor reflect the intention to portray the country in a negative manner. Our sole aim is to provide examples of various types of reading matter enjoyed by Japanese.