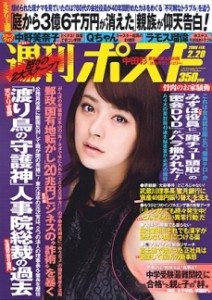 Generally speaking, women of the night find that a voluptuous figure provides a definite boost to their bottom line. But Shukan Post (Feb. 20) reports that there's always room for niche services that cater to those with different set of preferences.
Take, for example, Tenohira Saizu, a deri heru (out-call sex) service situated in Tokyo's Gotanda district that specializes in dispatching damsels who are decidedly diminutive in the dairy department. Specifically nothing bigger than a B-cup.
"While there are men who like girls with little ones, the number who like hinnyu (tiny teats) are limited," Tenohira Saizu's manager tells the magazine. "It's a 'small' market, and since we're specialists, a high percentage our clients, maybe 80 percent, are repeaters."
But being the only show in town has its advantages. "We've been flooded with reservations," he says.
Tenohira saizu would translate as "palm-sized."
According to the service's Web site, a 60-minute course, priced at 21,000 yen including charges for the hotel room, includes a scrubdown in the shower, groping, mouth-to-mouth contact, round-the-world and sixty-nine. There's no limit to the number of orgasms within the time allowed.
Since the two dozen girls employed by his shop lack magnificent mammaries, the manager tells the magazine, they have to appeal to customers through cuteness, and only about one in 10 applicants makes the grade.
"Since our concept is for customers to relax and enjoy their small-chested experience, the process involves pleasing their minds more than their bodies," he says.
"Before, men used to tease me unmercifully, making remarks like 'You don't expect me to believe those can fill a C-cup' or 'Excuse me miss, but you seem to have dropped your breasts,'" sighs 24-year-old Akina, a salesgirl by day, who the site says measures only 73 cm on top. "So when a customer praises me by saying, 'Your breasts are lovely,' or consoles me by tactfully saying, 'They look pretty normal to me,' my self esteem is boosted."
The shop's regular clientele have been heard voicing such rationales as "Girls with little boobs have small nipples too, which fits my ideal," and "My wife's are huge, so I'm drawn toward little ones."
In these hard times, it takes astute niche marketing to grow the business. And it seems the 25 pairs of sprouting little buds at Tenohira Saizu are busting out all over. (C.J.)
Source: "A-kappu bijo ga surari seizoroi," Shukan Post (Feb. 20, page 164)
Note: Brief extracts from Japanese vernacular media in the public domain that appear here were translated and summarized under the principle of "fair use." Every effort has been made to ensure accuracy of the translations. However, we are not responsible for the veracity of their contents. The activities of individuals described herein should not be construed as "typical" behavior of Japanese people nor reflect the intention to portray the country in a negative manner. Our sole aim is to provide examples of various types of reading matter enjoyed by Japanese.