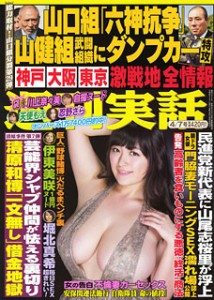 In January, the Japan National Tourism Organization announced that a record 19.73 million foreign tourists came to Japan last year, a figure that is 47.3 percent higher than the year before. Of that total, approximately 41 percent came from China.
According to weekly tabloid Shukan Jitsuwa (April 7), many visitors from the Communist nation are putting Osaka's brothel area of Tobita Shinchi on their must-see list when in Kansai.
Located in Nishinari Ward, the red-light district consists of alleys of brightly lit ryotei structures.
"In addition to an interest (in erotic pleasures), Chinese tourists find it easy to visit other sightseeing attractions in the immediate area," a person connected to a travel agency is quoted by the magazine.
Points of interest in the vicinity include Japan's tallest building, Abeno Harukas, the Tsutenkaku Tower in the Shinsekai entertainment area and the Sumiyoshi Grand Shrine.
"There are tours that will start out at Tsutenkaku or Abeno Harukas," continues the aforementioned source. "They will then take the women to Nipponbashi for shopping and the men to Tobita Shinchi."
The system for Tobita Shinchi works as follows: In the first-floor doorway of each establishment sits a woman attired in revealing clothing; next to her is an elderly female proprietor who verbally solicits clients.
In days past, Chinese visitors perused those doorways in relative secret. That is not the case any longer, with the magazine reporting that the sight of tour buses stopped on the highway at the district's entrance gate not being uncommon.
Previous articles covering Chinese tourists flocking to Tobita Shinchi have contained complaints by shop proprietors about rude behavior, such as the taking of photographs and performing prohibited acts. That, too, has changed.
"Recently, the customers have become more and more docile. They'll listen to what you say," says one employee in the district. "And compared to Japanese, Chinese guests seem to have a better time. Even with limited communication between us, they can say some funny things."
But not everyone is pleased with what are now called "Tobita Tourists."
"It is the duty of those in Tobita to convey to future generations what adult entertainment really means," says an employee inside one parlor. "It is hard to do that with tour groups and foreign languages fluttering about, as is the case now."
To attract more Japanese guests, the source suggests that, for example, discounts be offered as an inducement.
"You must protect the feeling of this colorful city," the employee says. (A.T.)
Source: "Chugokujin dantai kankokyaku ga sekken shi hajimeta Osaka Tobita Shinchi saishin jijo," Shukan Jitsuwa (April 7, page 49)
Note: Brief extracts from Japanese vernacular media in the public domain that appear here were translated and summarized under the principle of "fair use." Every effort has been made to ensure accuracy of the translations. However, we are not responsible for the veracity of their contents. The activities of individuals described herein should not be construed as "typical" behavior of Japanese people nor reflect the intention to portray the country in a negative manner. Our sole aim is to provide examples of various types of reading matter enjoyed by Japanese.