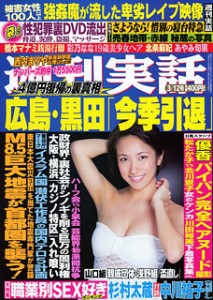 While police in Tokyo continue cracking down on illicit businesses employing underage school girls, a different situation is unfolding in Osaka.
"The number of basement-level rifure joints is skyrocketing in Nipponbashi," an evening newspaper reporter tells Shukan Jitsuwa (March 12) in referring to a reflexology massage parlor.
Like Tokyo's Akihabara, the Nipponbashi area is a Mecca for otaku (geeks) from Kansai.
According to the magazine, such punters are finding shops coming under the designation "JK," an abbreviation for joshi kosei, or high school girl, much to their liking.
In Tokyo, a full cleanup is underway. In January, police arrested the 44-year-old manager of massage parlor Honey Candle for employing a 17-year-old girl attired in a maid outfit to cuddle with a male customer over 50 years of age.
Other busts in the capital over the last couple of years have been for shops that allow walking dates, photograph sessions and intimate contact — any of which, law enforcement says, can lead to prostitution.
A similar crackdown has yet to emerge in Osaka, says the magazine.
"The shops that violate the law don't promote their services," a says a reporter covering the fuzoku (or sex-related) trade. "However, there's a place in Nipponbashi where you talk to uniformed girls who flash their underpants."
Another establishment in Nipponbashi offers regular customers private rooms.
"Since it is tightly soundproofed, any noises from whatever deeds taking place inside are sure to not leak out," assures the fuzoku writer.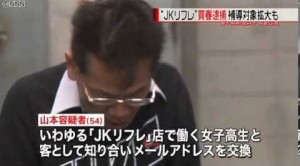 According to Shukan Jitsuwa, such mischief is not restricted to Nipponbashi.
"Around Shin Osaka (Station), there are shops offering extreme services," says the aforementioned newspaper reporter. "At one, the outward appearance is that of a photo studio featuring school girls. But regular customers can book ahead for shoots in which the girls are naked. Plus, all the models are minors. It is completely illegal."
As to demand, the reporter tells the magazine, "Even on the weekdays the number of customers is incessant." (K.N.)
Source: "Osaka ni fueru JK rifure-ten," Shukan Jitsuwa (March 12, page 192)
Note: Brief extracts from Japanese vernacular media in the public domain that appear here were translated and summarized under the principle of "fair use." Every effort has been made to ensure accuracy of the translations. However, we are not responsible for the veracity of their contents. The activities of individuals described herein should not be construed as "typical" behavior of Japanese people nor reflect the intention to portray the country in a negative manner. Our sole aim is to provide examples of various types of reading matter enjoyed by Japanese.