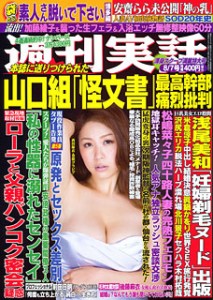 On July 7, Osaka Prefectural Police busted an underground adult DVD shop in Nipponbashi on charges of distributing obscene electronic media.
Officers arrested manager Masahiro Otani, 55, and seized 104,000 DVDs and dubbing equipment from the fourth-floor shop. According to police, the shop sold the DVDs for 500 yen each and generated between 100,000 and 150,000 yen in revenue per day.
Along with maid cafes and shops selling anime goods, the trade in such DVDs, in which genitalia is not censored as dictated by law, forms one of the "Big Three" markets for the otaku crowd in the area — but, according to Shukan Jitsuwa (Aug. 7), it is in danger of being shut down entirely by law enforcement.
"Just like other shops, this one relies on downloading files from the Internet," says a write covering the fuzoku trade, or commercial sex industry. "So, a situation whereby one can easily buy unlawful DVDs is strange no matter how you look at it. It was just a matter of time before. Lately, large-scale busts have pushed out other stores in the area. (The industry) has nearly been wiped out."
However, in the area surrounding nearby Ebisucho Station, fans of the films are able to visit a makeshift market that pops in the evenings.
"Since the material is all downloaded from the Internet, you would think that you wouldn't have to buy underground DVDs," says a local news reporter. "But with the customers being mostly older guys (not skilled in IT), the potential for the market still exists."
A shop owner says that the recent busts may signal the end of the trade in its current form.
"Shops are not going to be opening for a while," says the owner. "But the demand is there, and the stockpile of discs is huge. So if a new place opens and becomes profitable it'll be quiet about it in order to avoid getting shut down."
Shukan Jitsuwa wonders whether the trade will revive itself in another form or, as alluded to by the owner above, be driven underground further. The magazine notes that foreign tourists are known for buying the DVDs since they are considered a "famous product of Nipponbashi," and, well, that ought to be worth something. (A.T.)
Source: "Osaka Nipponbashi uraDVD-ten tekihatsu nagori," Shukan Jitsuwa (Aug. 7, page 211)
Note: Brief extracts from Japanese vernacular media in the public domain that appear here were translated and summarized under the principle of "fair use." Every effort has been made to ensure accuracy of the translations. However, we are not responsible for the veracity of their contents. The activities of individuals described herein should not be construed as "typical" behavior of Japanese people nor reflect the intention to portray the country in a negative manner. Our sole aim is to provide examples of various types of reading matter enjoyed by Japanese.