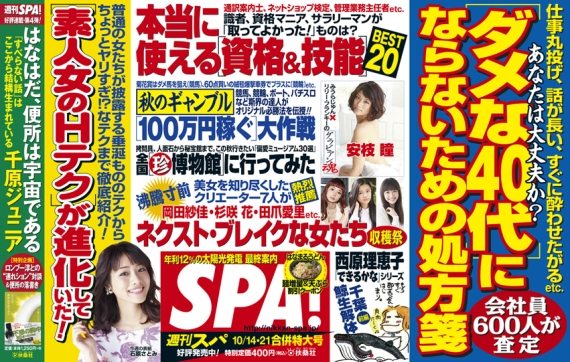 In June of 2003, then Tokyo Gov. Shintaro Ishihara appointed former National Police Agency officer Yutaka Takehana as vice governor in charge of security.
The following year, the vice governor initiated a crackdown upon Tokyo's fuzoku trade, or the adult-entertainment industry.
Among the hardest hit areas was Shinjuku Ward's Kabukicho red-light district. Takehana ordered the shutting of adult-goods stores, underground casinos, hostess clubs, and erotic massage parlors.
An area just north of Kabukicho, stretching between Okubo and Shin Okubo, is known as the "Ginza of prostitution" due to its large number of foreign street walkers plying the streets each evening.
In an effort to assess how the sweep impacted the area, Spa! (Oct. 14-21) pays a visit for a rundown, or rather, a lowdown.
A writer for the magazine says that activity across the stretch reached its peak about 10 years ago, when roughly 100 working gals could be seen spaced a few meters apart along a major thoroughfare.
On a recent weekend evening just before the last train, the writer found about 30 women, some of whom were heard calling out into the night to passersby.
Their accents revealed a variety of countries of origin, including China, Indonesia and nations in South America, but, surprisingly, not Korea.
"The reason is all the Korean businesses nearby," says a Korean living in the area. "People of the same country don't want to bump into one another. Discrimination against Korean prostitutes is strong for the sake of appearances."
Of the assembled prostitutes, most of whom appear to be in their 40s, about 90 percent are from China. However, a crackdown over the summer in Roppongi has caused Okubo's streets to see a larger than normal number of Brazilian new-half prostitutes.
It is a buyer's market: Payment of the love hotel fee plus 10,000 yen to the girl is the current market price.
The writer notes that a stroll through the district reveals that little has changed over the years, though the installation of security cameras has lessened the availability of a quickie blow-job in a parking lot or stairwell for 1,500 yen.
Back down south, transactions through a different means altogether are unfolding.
Prior to the crackdown in Kabukicho, similar opportunities were readily available just outside the Okubo Hospital. Japanese and foreign women loitered between a series of planter boxes just across an alley from a string of love hotels. However, frequent police patrols and tape cordoning off the area have halted activity.
Nowadays, communication between prostitutes and customers is done via smartphone, says a Korean new-half. Working women wait in coffee shops are deai-kei "encounter" matchmaking cafes while searching for customers via smartphone chat apps like Line.
"The number of young girls rises over summer vacation and holiday periods," says a 10-year Kabukicho regular. "There are also a lot of girls working in the fuzoku trade in Shinjuku who do it to supplement their income."
The regular goes on to say that yakuza middlemen are being shut out of the action due to the more efficient method of communication in place.
"With Japanese gals being charged 10,000 yen in pimp fees, and foreigners between 5,000 and 8,000 yen, the risk of venturing out on the streets on a weekend night exceeds the benefit."
Source: "Ima Tokyo no 'tachinbo' ni nani ga okite iru no ka?" Spa! (Oct. 14-21, pages 30-31)
Note: Brief extracts from Japanese vernacular media in the public domain that appear here were translated and summarized under the principle of "fair use." Every effort has been made to ensure accuracy of the translations. However, we are not responsible for the veracity of their contents. The activities of individuals described herein should not be construed as "typical" behavior of Japanese people nor reflect the intention to portray the country in a negative manner. Our sole aim is to provide examples of various types of reading matter enjoyed by Japanese.