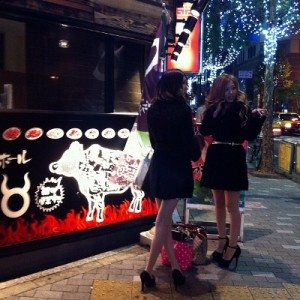 With the resignation of Tokyo Governor Shintaro Ishihara last month, operators of shops peddling sleaze in the top entertainment areas of the metropolis are undergoing something of a resurgence, reports evening tabloid Nikkan Gendai (Nov. 9).
The tabloid happily reports that streetwalkers in Ikebukuro are back in small numbers, and clubs where the hostesses can be taken off the premises for a fee have made a return.
The crackdown began in April 2004, a year after Ishihara appointed Yutaka Takehana as vice governor. That year, Takehana ordered the shutting of adult-goods stores, underground casinos, hostess clubs, and massage parlors in Shinjuku Ward's Kabukicho red-light district, Japan's largest adult-entertainment area.
"With Tokyo aiming to host the Olympics in 2016, Ishihara appointed the vice governor for the purpose of commanding the clean sweep of blow-job joints and other such places in adult areas of Tokyo," says a fuzoku (sex shop) manager.
The source says that other services quickly replaced those that had been wiped out, but they too were soon shut down. "Adult parties" held in apartments that escalated into sex sessions in private rooms (popular among salarymen considering the reasonable rate of 20,000 yen) did not last long.
Also shuttered were operations offering "in-store" sex sessions, such as "happening bars," massage parlors with Chinese and Korean masseuses, and "encounter" cafes.
Two days after his resignation, on October 25, police shut down the Orange Group's chain chain of eight soapland clubs in the Yoshiwara brothel quarter for violations related to the Anti-Prostitution Law. That same week, law enforcement targeted street touts, hostess clubs, and adult DVD shops in Kabukicho.
Nikkan Gendai views these moves as something of a carryover of the policies of the former governor. The tabloid believes brighter times lie ahead for adult clubs.
In the post-Ishihara era, operators are rolling out more extreme services, though in compliance with the Law Regulating Adult Entertainment Businesses, which prohibits coital sex but allows many other forms of erotic stimulation.
"Deri heru ('delivery health') girls allow customers to lick them from the front and the back before they shower," says a writer covering the fuzoku trade in referrring to call-girl services. "Also popular are reflexology courses, massages, and sleeping together sessions as provided by high-school girls." (K.N.)
Source: "Shinjuku, Ikebukuro…fuzokugai ga kakkizuite kita," Nikkan Gendai (Nov. 8, page 7)
Note: Brief extracts from Japanese vernacular media in the public domain that appear here were translated and summarized under the principle of "fair use." Every effort has been made to ensure accuracy of the translations. However, we are not responsible for the veracity of their contents. The activities of individuals described herein should not be construed as "typical" behavior of Japanese people nor reflect the intention to portray the country in a negative manner. Our sole aim is to provide examples of various types of reading matter enjoyed by Japanese.