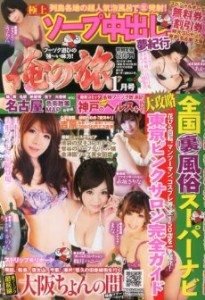 In recent days, candidates have been shaping their platforms heading into the Tokyo gubernatorial election, which is set for February 9.
According to Tokyo Sports (Jan. 19), former Health, Labor and Welfare Minister Yoichi Masuzoe, 65, and ex-Prime Minister Morihiro Hosokawa are considered the top two contenders.
Masuzoe has spoken of the need to ensure a successful 2020 Olympics and Paralympics, while Hosokawa, the 76-year-old is supported by former PM Junichiro Koizumi, is promoting a mandate for a nuclear-free society.
Yet none of the candidates has weighed in on sex. In April of 2004, vice governor Yutaka Takehana, who had been appointed by then governor Shintarao Ishihara the year before, famously ordered a crackdown on adult-goods stores, underground casinos, hostess clubs, and massage parlors in Shinjuku Ward's Kabukicho red-light district, Japan's largest adult-entertainment area.
For an insight into what may lie ahead this time around, the paper turns to Akira Ikoma, editor of a guide to men's entertainment called Ore no Tabi (My Journey).
First up Hosokawa.
"He has an understanding of the fuzoku business," says Ikoma, referring to the commercial sex industry. "Previously, he was the prefectural governor of Kumamoto, whose Kumamoto City has a soapland industry that is famous nationwide. Its reputation rivals that of Nakasu (in Fukuoka)."
Tokyo Sports says that there is a special area of Kumamoto that offers a special sex service — in which ejaculation inside the masseuse without a condom is permissible — that attracts customers from all parts of the country.
"You don't hear of purification drives in Kumamoto," says the editor. "If he is elected, he won't wipe out (Tokyo's) Yoshiwara."
For Masuzoe, he is known as a "ladies man" — three marriages and a reported fondness for mistresses will do that.
"He likes women," says Ikoma. "So I don't see the fuzoku trade being targeted."
Certainly, this is mere speculation. The editor is a bit concerned about the future of the Uguisudani area, which is known for its Korean "delivery health" call-girl services.
"If there's a crackdown on Uguisudani, the working women there will be wiped out," says Ikoma. "I hope that the new governor will adopt have an expansive view that takes this into consideration." (A.T.)
Source: "Tochiji koho no fuzoku seisaku?" Tokyo Sports (Jan. 19)
Note: Brief extracts from Japanese vernacular media in the public domain that appear here were translated and summarized under the principle of "fair use." Every effort has been made to ensure accuracy of the translations. However, we are not responsible for the veracity of their contents. The activities of individuals described herein should not be construed as "typical" behavior of Japanese people nor reflect the intention to portray the country in a negative manner. Our sole aim is to provide examples of various types of reading matter enjoyed by Japanese.