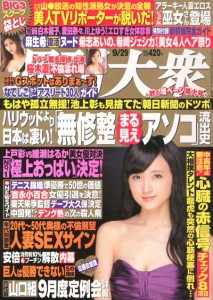 He's had his camera smashed four times. Yakuza members have detained him on three occasions, and foreign street thugs have threatened him with a knife twice.
Before returning to Korea earlier this year, photo journalist Choul Kwon ran into trouble a number of times during his 18 years of documenting the rough-and-tumble world of Tokyo's Kabukicho red-light district.
Kwon, whose photo book "Kabukicho Sniper" was released by publisher Takarajimasha on Tuesday, recalls one particular confrontation with yakuza members for weekly tabloid Shukan Taishu (Sept. 29).
"I came across some yakuza who were fighting," the photographer says.
Kwon always carries his camera with him, ready to pull it own when trouble emerges. His gritty images, as shown in "Kabukicho Sniper," often feature street fights, drunken revelry, police officers chasing suspects, homeless, buildings on fire and suicide attempts.
This time, though, he was in over his head.
"I attempted to take some shots," he says, "but another gangster came up from behind and demanded I tell him what I was doing. He then dragged me to the basement of a building."
The room resembled a warehouse, at least more so than an office. It also stunk of raw garbage.
"When I entered, I was pushed down hard by two thugs," the photographer says. "Then I was forced to sit seiza style on the floor."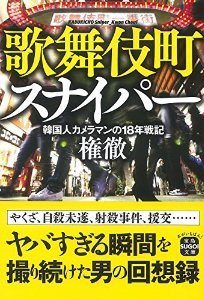 With his feet tucked underneath and behind, the gangsters demanded that he give up his film.
"A number of times, I nearly vomited out of fear, the tension and that rotten smell," he says.
The yakuza had mistaken him for an undercover police officer. In the end, he was released.
The magazine reprints photos by Kwon showing gangsters fighting with street touts and flowers placed in a dark alley between two buildings to likely honor a person who had died at that location.
"Whenever I encounter trouble, I ask myself why I'm doing this," he says. "But after I take a nice photo that feeling disappears."
Source: "Kabukicho no 18 nen," Shukan Taishu (Sept. 29)
Note: Brief extracts from Japanese vernacular media in the public domain that appear here were translated and summarized under the principle of "fair use." Every effort has been made to ensure accuracy of the translations. However, we are not responsible for the veracity of their contents. The activities of individuals described herein should not be construed as "typical" behavior of Japanese people nor reflect the intention to portray the country in a negative manner. Our sole aim is to provide examples of various types of reading matter enjoyed by Japanese.