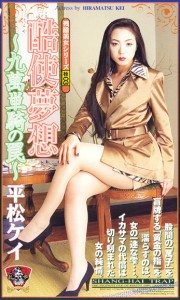 After an actress in the adult video (AV) industry retires, it is not unusual for her to eventually wind up working as a stripper.
For Kei Hiramatsu, she not only made the transition from behind the camera onto the stage but she did so with aplomb, garnering the nickname "the stripping Goddess."
Now, reports Nikkan Gendai (Oct. 13), the 38-year-old works as a burlesque instructor in addition to pouring drinks at hostess club Ginza Yuri, which employs current and former AV actresses, a move that is highly satisfying for both Hiramatsu and her fans.
"This is the first time I've worked in mizushobai," says Hiramatsu, attired in a black one-piece dress, in referring to the night trade.
In March, Hiramatsu started at the club, located in the ritzy Ginza entertainment area, through a recommendation from Reiko Makihara, a current AV actress who also strips.
"Fans have come to visit all the way from the countryside, and that makes it enjoyable," she says.
The price for entry at Ginza Yuri starts at 15,000 yen for the first 60 minutes.
As an instructor, she teaches the likes of Honoka Yukimi, Rena Momose and Yukari Kosaka — all of whom are AV starlets — in the art of stripping.
"It is not just about choreography, clothing and accessories," she says. "My objective is to bring it all together with the stage music."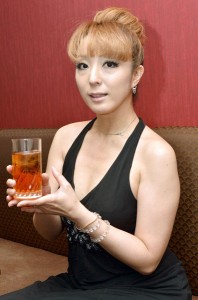 The Tokyo native entered the entertainment biz at the age of 16, when she started doing gravure (pin-up) modeling with an eye on becoming an actress.
"The first time I took my clothes off before a camera was for Shukan Taishu," she tells the newspaper. "It was in Saipan for photographer Shin Yamagishi."
In 1997, she made her AV debut in "Passion" for label Uchu Kikaku, and wound up appearing in a total of eight films. That August, she began stripping at theater Susukino Madonna in Sapporo.
Possessing a shapely figure, Hiramatsu emerged as a star.
"At that time, I did not have an intention of stripping for 16 years," she says. "I envisioned a life of travel being good for me."
Until December of last year, she was attached with the Asakusa Rokku-za strip club in Tokyo. On her last night, fans showered with paper with paper streamers. "I was so happy," she says. "I could retire without regrets."
Source: "Asakusa Rokku-za no "megami" datta hiramatsu kei wa kohai o furitsuke shido," Nikkan Gendai (Oct. 13)
Note: Brief extracts from Japanese vernacular media in the public domain that appear here were translated and summarized under the principle of "fair use." Every effort has been made to ensure accuracy of the translations. However, we are not responsible for the veracity of their contents. The activities of individuals described herein should not be construed as "typical" behavior of Japanese people nor reflect the intention to portray the country in a negative manner. Our sole aim is to provide examples of various types of reading matter enjoyed by Japanese.