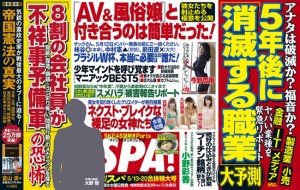 In a special report on how to associate with women working in "naked" industries — adult video (AV), for example — Spa! (May 13-20) offers a breakdown by region in the Tokyo metropolitan area for hitting on amateurs and rookies toiling in the commercial sex trade.
For an analysis, the magazine turns to Akira Ikoma, the editor of a guide to the men's entertainment called Ore no Tabi (My Journey).
"I recommend Ikebukuro," says the editor. "That area is known for out-call sex joints and speciality massage parlors staffed by amateurs."
Because of convenient access to Saitama Prefecture, Ikebukuro also attracts a lot of new recruits. Then there is Shinjuku, which of course means the Kabukicho red-light district.
"Especially the 'health' places," says Ikoma, referring to establishments that provide oral- and hand-administered services, possibly by an attendant in a costume.
Because it attracts professional types, the soapland bathhouse district is a place to be avoided, as is Yoshiwara and Shibuya, where girls there are used to being hassled by street scouts — a fact that makes them averse to communication.
Gotanda is ripe for those interested in amateurs, as are Yokohama and Chiba's Sakaecho area, should one be keen on college girls.
"It has become easy to make hit on the gals due to a drop in customer numbers," says Ikoma, referring to Chiba's top red-light area.
Enjoying a drink with an AV actress moonlighting as a kyaba-jo (hostess) is possible at Roppongi's Red Dragon. It is possible to talk about porn films with current and former starlets — hey, says Spa!, it might be fun to give it a shot once.
Ikoma says that waiting for an out-call girl on the street provides a feeling similar to that of a regular couple in love. From there, things can escalate. "It can be easy to take it into a private relationship," he says.
As to execution, play it smart. Knowing the seasons, for example, is important. College girls tend to join clubs each year in April and May after graduation.
"These types are not yet aware of how the business world works," says Ikoma. "Now is your chance." (K.N.)
Source: "Fuzoku-jo to tsukiaitainra, shiroto&shinjin ga tsudo gai wo…," Spa! (May 13-20, page 48)
Note: Brief extracts from Japanese vernacular media in the public domain that appear here were translated and summarized under the principle of "fair use." Every effort has been made to ensure accuracy of the translations. However, we are not responsible for the veracity of their contents. The activities of individuals described herein should not be construed as "typical" behavior of Japanese people nor reflect the intention to portray the country in a negative manner. Our sole aim is to provide examples of various types of reading matter enjoyed by Japanese.