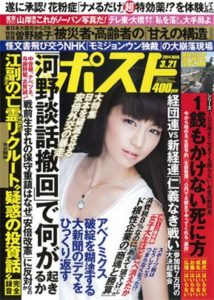 A study conducted by Japan's Ministry of Education, Culture, Sports, Science and Technology indicated that in 2012 a total of 74 percent of college students engaged in part-time work.
With the economy continuing to slump, support from the family is not what it used to be. Parents may supply some money to cover rent but funds for utilities, food and other necessities must come from elsewhere.
For many college gals, freelance writer Atsuhiko Nakamura tells Shukan Post (Mar. 21), that means employment in the commercial sex industry (known by the term fuzoku) or the adult video trade, but nowadays hard times await as the number of applicants has surged.
"For several years now, girls seeking employment as a sex worker or AV actress have faced severe competition," says Nakamura, the author of the 2012 book "Being an AV Actress."
For AV, only one in 30 co-eds entering the biz is able to make enough money to cover expenses. In the fuzoku industry, 70 percent of applicants are rejected.
"The selection process for girls falling between 18 and 22 years of age is strict," says Nakamura. "Intelligence, appearance and breeding are all keys in defining the winners."
At some AV production companies, 80 percent of the actresses are currently enrolled in Tokyo area universities. Meanwhile, between 80 and 90 percent of the young employees with robust sales at "delivery health" out-call sex establishments or ime kura "image" clubs are girls in college.
A 21-year-old university student going by the name "Riko" works in the Sakaecho area of Chiba City tells Nakamura that she receives 80,000 yen a month from her parents. She supplements that amount by working three times a week at a deri heru establishment, which pays her approximately 250,000 yen per month.
"Working a regular job [part-time] and going to school just does not work financially," Riko says.
In explaining the situation, Riko discusses the possibility of part-time work as a teacher at a cram school. "The hourly salary is high but the working period is too short," she says. "So that leaves fuzoku or mizushobai."
Girls generally don't talk about their part-time work, she adds: "But I'd guess that around half of the cute girls from the local area are doing it."
Source: "Joshi daisei ha doko he kietaka?" Shukan Post (Mar. 21)
Note: Brief extracts from Japanese vernacular media in the public domain that appear here were translated and summarized under the principle of "fair use." Every effort has been made to ensure accuracy of the translations. However, we are not responsible for the veracity of their contents. The activities of individuals described herein should not be construed as "typical" behavior of Japanese people nor reflect the intention to portray the country in a negative manner. Our sole aim is to provide examples of various types of reading matter enjoyed by Japanese.