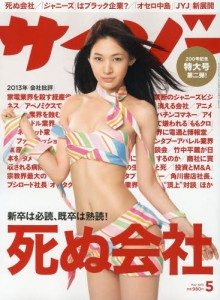 According to the Japan National Tourism Organization, a record-high 1.43 million Chinese tourists visited Japan in 2012. This figure represents an increase of 37.3 percent over the year before, when the Great East Japan Earthquake and the nuclear disaster in Fukushima Prefecture unfolded.
Monthly magazine Cyzo says that visitors from China seek out Japanese products since they are viewed to be of high quality, but one item is proving to be elusive: the prostitute.
Bathhouses in the Yoshiwara brothel quarter are implementing a general ban on visitors from China due to "cultural differences."
"About two or three years ago, Yoshiwara started seeing a rise in the number of Chinese tourists," says an employee at one bathhouse. "Due to language difficulties, they are not able to understand the fee system."
To enter a bathhouse may require 15,000 yen, but there is also the matter of paying 30,000 yen to the awa hime, or foam princess, once the session is complete.
"There have been quarrels," continues the worker. "So as of now, Chinese tourists are not allowed to enter."
The manager of another shop says that Chinese tourists also lack appropriate manners. "Inside the bathhouses photography is prohibited," says the manager. "But Chinese tourists always want to take photos."
These photos, says the manager, eventually wind up on Web sites in China.
Furthermore, there are a lot Chinese tourists who tend to be rude and possesss an aggressive attitude. "The soap girls are reluctant to serve them," continues the manager.
With Japan's adult-entertainment industry presently enduring difficult times due to the prolonged recession, the manager adds that he is grateful when any customer arrives at his establishment. He says, "I do not ban Chinese tourists just because of their nationality."
But Cyzo's writer senses that they are also probably not welcome at his shop. (A.T.)
Source: "Yoshiwara soopugai de Chugokujin kankokyaku no nyuyoku toraburu ga zokuhatsuchu!" Cyzo (Web)
Note: Brief extracts from Japanese vernacular media in the public domain that appear here were translated and summarized under the principle of "fair use." Every effort has been made to ensure accuracy of the translations. However, we are not responsible for the veracity of their contents. The activities of individuals described herein should not be construed as "typical" behavior of Japanese people nor reflect the intention to portray the country in a negative manner. Our sole aim is to provide examples of various types of reading matter enjoyed by Japanese.