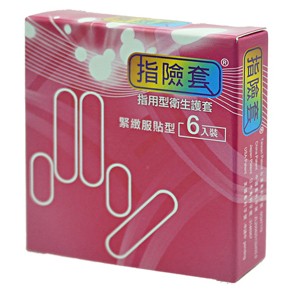 The Taiwan-based Findom line of condoms that slip over the fingers landed in Japan last year.
According to Yukan Fuji (March 14), Japan could be a possibly lucrative market in light of a recent initiative by Tokyo's Shibuya Ward to support same-sex couples.
"According to research, 70 percent of the purchasers have been women," says Yosuke  Morimoto of Art Media, whose Japan office is located in Chiyoda Ward, "and of them 70 percent have been lesbians."
Last month, a proposal submitted to the Shibuya Ward assembly intends to recognize same-sex partnerships as being equivalent to marriage.
The latex product has already proved to be a hit in Taiwan. Last year, sales of 1.25 million units netted 200 million yen in revenue.
Former Japanese adult video (AV) star Taka Kato, who left the industry in 2013 by, as he said, finally putting "on his pants," serves as the product spokesperson in Taiwan.
Over his 26-year career, he became known for his "Goldfinger," which he utilized to induce shiofuki, or female ejaculation. In many photos, the actor is seen raising the middle and fore fingers of his right hand.
"Japanese AV is huge in Taiwan," says Morimoto. "His fans view him as having a God-like status. We have high hopes for this project."
In Japan, a box of six Findom condoms, each of which measure a stubby six centimeters in length and boast a skin thickness of 0.06 millimeters, retails for 550 yen via mail order.
Online sales for Japan are scheduled to begin next month. For promotion, representatives from Art Media will be in front of JR Shibuya Station on weekends to hand out free samples.
Morimoto, however, says that the product is not strictly for homosexuals.
"I want male-female couples to also be users," says Morimoto. "(The product) can be an opportunity for a man to care for the body of woman." (K.N.)
Source: "Yubi bajon kondomu Taiwan hatsu ," Yukan Fuji (March 14, page 5)
Note: Brief extracts from Japanese vernacular media in the public domain that appear here were translated and summarized under the principle of "fair use." Every effort has been made to ensure accuracy of the translations. However, we are not responsible for the veracity of their contents. The activities of individuals described herein should not be construed as "typical" behavior of Japanese people nor reflect the intention to portray the country in a negative manner. Our sole aim is to provide examples of various types of reading matter enjoyed by Japanese.