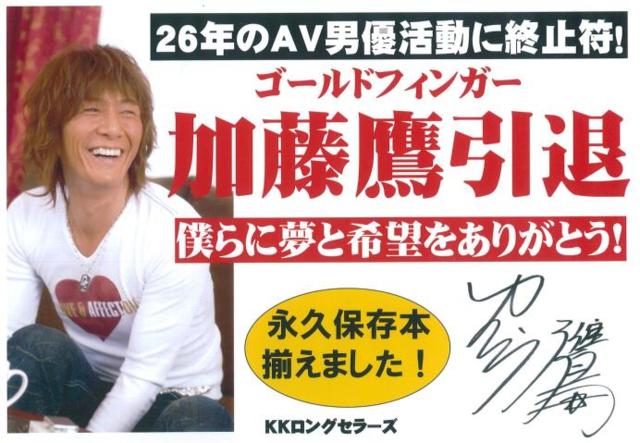 On May 19, adult video (AV) label Dogma will release lesbian-themed feature that includes the final performance by Taka Kato, the veteran porn star who retired from the industry last year.
After more than 10,000 AV releases (and 8,000 actresses), the 55-year-old actor tells Tokyo Sports (May 4) that he is finally able to relax.
"For 26 years, I was having sex everyday," says Kato. "Since I made it a rule to not have sex during my off hours I have continued (with that) through this year."
Two years ago, Kato divorced his wife, with whom he has three children. "I've got three kids, so I have done it three times," he giggles.
His 16-year-old boy was observed by ex-soccer star Yasutoshi Miura, and he is currently in Los Angeles sharpening his skills in a youth program affiliated with the LA Galaxy. "He gets his talent from my ex-wife," says Kato, who also has two daughters. "He can really run, much like Kensuke Nagai."
In 1987, Kato moved from his home in Akita Prefecture to Tokyo, where he began working as a cameraman's assistant. At the urging of a colleague, he became a porn actor.
Over his 26-year career, Kato became known for his "Goldfinger," which he utilizes to induce shiofuki, or female ejaculation. In many photos, the actor is seen raising the middle and fore fingers of his right hand.
Kato's final AV appearance is the third in a trilogy featuring porn actress Adrianna Nicole, who performs in bondage scenes alongside Japanese star Yui Misaki.
For Kato, retirement suits him well.
"Actually, my current relationship with my ex-wife is good," he says. "I love my family. So I don't think I'll marry again."
Source: "Kato Taka ga kazoku wo hatsu kokuhaku musuko ha LA gyarakushii yuusu ni zaiseki," Tokyo Sports (May 4)
Note: Brief extracts from Japanese vernacular media in the public domain that appear here were translated and summarized under the principle of "fair use." Every effort has been made to ensure accuracy of the translations. However, we are not responsible for the veracity of their contents. The activities of individuals described herein should not be construed as "typical" behavior of Japanese people nor reflect the intention to portray the country in a negative manner. Our sole aim is to provide examples of various types of reading matter enjoyed by Japanese.