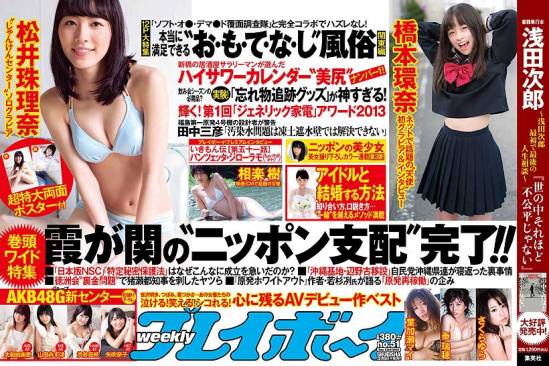 "I've heard people asking whether I'm retiring due to an inability to produce an erection," writes adult video (AV) actor Taka Kato in Weekly Playboy (Dec. 23). "On the contrary, if that were the case I wouldn't be ending my career. Actually, I just want to try something new."
In August, Kato announced that he will retire from the industry at the end of the year.
As a tribute, Weekly Playboy transcribes a short interview to the 54-year-old from Akita Prefecture.
"At the age of 29, I came to Tokyo," says Kato, who has has more than 10,000 AV releases (and 8,000 actresses) to his credit. "I began working as a cameraman's assistant. But then, at the urging of a colleague, I became a porn actor."
He says that until then his life had been very passive. "Because I thought that I'd be a 'loser' if I were to turn down work, I took up the challenge completely," he says.
Over his 26-year career, Kato became known for his "Goldfinger," which he utilizes to induce shiofuki, or female ejaculation. In many photos, the actor is seen raising the middle and fore fingers of his right hand.
"But I've always had a similar sense to a taxi that doesn't know its destination," the actor says. "Before I reach my '60s, I thought I should alter my path."
In recent years, Kato has been involved in volunteer work that promotes AIDS awareness. He also appears regularly as a columnist in weekly magazines.
Kato is also well aware that Japan's population is aging. (The government expects that 39 percent of its people will be over the age of 65 by 2050." As a result, the actor feels he can put his knowledge and skills to work. "I watch to teach 'how to' sex classes at rest homes," he says.
Kato never mentions having any regrets. Though at the same time, he realizes that after 26 years he has likely missed out on some things. "I want to find out what it is like to have sex for reasons other than work," he says, adding that he does not have a wife or girlfriend.
The actor told Tokyo Sports (Aug. 15) that he will finally "put on his pants" on December 31. He says that a return to the AV industry is out of the question. "Not a chance," says the actor. "A man does not go back on his word." (A.T.)
Source: "Kato Taka ga AV danyu wo sotsugyo!" Weekly Playboy (Dec. 23, special pull-out section)
Note: Brief extracts from Japanese vernacular media in the public domain that appear here were translated and summarized under the principle of "fair use." Every effort has been made to ensure accuracy of the translations. However, we are not responsible for the veracity of their contents. The activities of individuals described herein should not be construed as "typical" behavior of Japanese people nor reflect the intention to portray the country in a negative manner. Our sole aim is to provide examples of various types of reading matter enjoyed by Japanese.