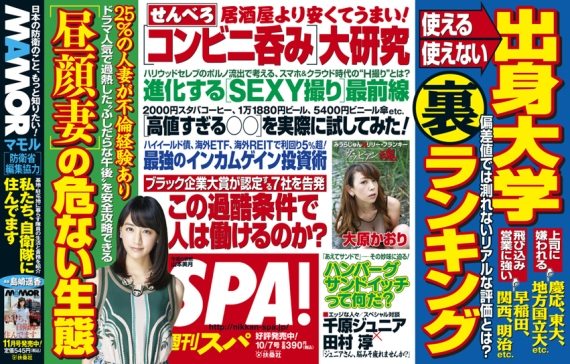 In July, Fuji TV began airing "Hirugao — Heijitsu Gogo Sanji no Koibitotachi" (Afternoon Face — The Weekday 3 p.m. Lovers), a drama starring popular actresses Aya Ueto and Michiko Kichise, both of whom portray wives engaged in affairs for thrills.
With the show proving to be a hit, Spa! (Oct. 7) warns its readership that such actions are not mere fun and games: Wanton wives, eventually, may have to pay up.
In a survey of roughly 300 housewives with experience in affairs, the majority were able to keep their illicit liaisons from being leaked. However, nine participants did indeed experience such problems, with the average compensation doled out (possibly from the new boyfriend) to the husband averaging 1.47 million yen.
Working on behalf of such men are investigators like Hiroyuki Imano (@splashkon), the author of "Why Men's Affairs Are Revealed But Not Women's," a document of his experience as a consultant on more than 1,000 cases of infidelity.
"Women have no choice but to pay the price for cheating," says the investigator. "They need to be prepared to hand over up to three million yen in alimony."
Of those women surveyed, the majority said they participated in affairs between one and three years of marriage, with most having met their partner through work.
As a word of caution, Imano offers advice for wouldbe philanderers. First, eliminate the paper — or rather, digital — trail.
"The advent of the smartphone has caused discoveries of cheating to increase by leaps and bounds," says Imano. "To not get caught, items of convenience need to be eliminated. That means, of course, the smartphone. And, as well, the use of online banking and Suica (train debit) cards because a personal history can be left behind."
Signs to look for, according to Imano, are women who change their behavior quickly: For example, an abrupt change in a mobile phone contract, an increase in excursions out of the house through activity on social-media sites like Facebook or a habit of infrequent communication.
According to Spa!, the majority of surveyed women who have engaged in affairs said they did so due to a lapse of some sort — sexual or otherwise — on the part of the husband. Of those women, they lived in households with a rather lofty average annual income of more than seven million yen.
Spa! concludes that women marry for money but find carnal satisfaction on the side, which, Imano says, can result in some housewives becoming obsessed.
"She'll neglect her husband and children to the point where they'll raise suspicion," he says. "So the boyfriend will recommend that she pay careful attention to him (the husband). With that, the boyfriend should understand that she'll need such space." (A.T.)
Source: "25% hitozuma ga furin keiken ari 'Hirugaozuma' no abunai seitai," Spa! (Oct. 7, pages 44-48)
Note: Brief extracts from Japanese vernacular media in the public domain that appear here were translated and summarized under the principle of "fair use." Every effort has been made to ensure accuracy of the translations. However, we are not responsible for the veracity of their contents. The activities of individuals described herein should not be construed as "typical" behavior of Japanese people nor reflect the intention to portray the country in a negative manner. Our sole aim is to provide examples of various types of reading matter enjoyed by Japanese.