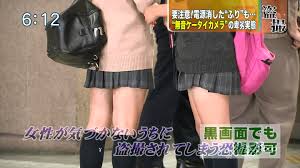 On the afternoon of April 13, Tochigi Prefectural Police arrested a member of the editorial department of the Shimotsuke Shimbun newspaper for using a smartphone to take photos inside the skirt of an 18-year-old vocational student at a supermarket in Utsunomiya.
Officers charged Yoshio Hagiwara, 53, with violating a public nuisance ordinance. He has reportedly admitted to the allegations.
Time was, Nikkan Gendai (Apr. 16), voyeurs utilized highly specialized equipment in pursuing peeping for pleasure. But nowadays most perverts are preferring smartphones.
"The small size of the smartphone is desirable," says an expert in the field. "It fits comfortably in the palm of the hand. People will not know you have a smartphone with a simple glance."
For trains, seats near the door are desired. "You target girls in miniskirts," says the aforementioned source. "With the shutter sound turned off, the women do not realize they are being photographed."
Hiding a camera inside a shoe, slipper or sandal and triggering the shutter with a cordless remote control is another option.
In March, a 25-year-old middle school lecturer in Kyoto was arrested for photographing inside the skirt of a third year student during class. The month before that, a police sergeant in Kagawa Prefecture was charged with taking similar photos of a female at his workplace on more than 20 occasions. In both cases, the camera was hidden in footwear.
Of course, this method can be applied to a congested commuter train as well. It is a matter of placing the camera behind the target and using the leg of another commuter as a shield.
"With her looking the other way, she won't notice a thing," says the aforementioned insider. (A.T.)
Source: "Dondon esukareeto 'sumaho de tosatsu' no komyo teguchi," Nikkan Gendai (Apr. 16)
Note: Brief extracts from Japanese vernacular media in the public domain that appear here were translated and summarized under the principle of "fair use." Every effort has been made to ensure accuracy of the translations. However, we are not responsible for the veracity of their contents. The activities of individuals described herein should not be construed as "typical" behavior of Japanese people nor reflect the intention to portray the country in a negative manner. Our sole aim is to provide examples of various types of reading matter enjoyed by Japanese.