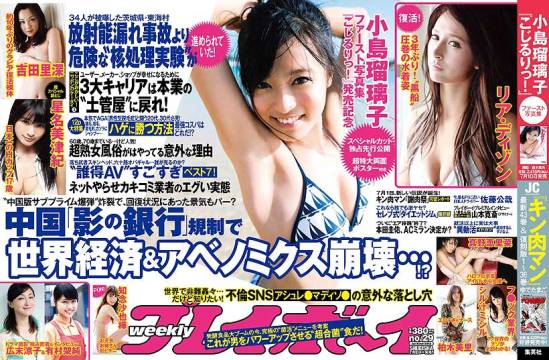 It is not an unusual dilemma: You may be married but an urge to play around still lingers; on top of that, there are an assortment of troubles at home…
What to do?
For any of its readers fitting that profile, tabloid Weekly Playboy (July 22) introduces Ashley Madison, the popular dating site for dissatisfied married people.
On June 24, the infidelity service, which boasts more than 19 million anonymous members worldwide, started operations in Japan to compete with the nation's online dating services.
Noel Biderman, the CEO of Avid Life Media, the company that operates the site, says that his inspiration for the service came from his previous work as a sports attorney.
"At that time, 90% of my work dealt with adultery," says Biderman, a married 42-year-old. "So I thought starting a site in which married people could communicate would be profitable."
Ashley Madison, which originally launched in 2002, already exists in the U.S., Australia, Germany, and 24 other countries. Japan is its first into Asia.
In separating itself from conventional dating sites, where one may easily pretend to not be attached, Ashley Madison specifically seeks out married people who are unhappy with their sex lives or in relationships in which they are being neglected.
The system is simple. After navigating to the site, a profile based on the user's age, physical characteristics, and location is built. This information is then used to bring up a selection of hopefully intriguing profiles.
Male users pay 4,900 yen for 100 credits — the currency used to interact with women, who do not pay. To engage in an email conversation with a female user requires five credits. For chatting, the fee is based on the elapsed time, much like a taxi meter.
It is not surprising that such a service does not operate without controversy. "America is the largest market for adultery," says Biderman. "But there is no shortage of people who are critical of Ashley Madison."
In addition to number of heated discussions with Biderman on television talk shows, the company was generally banned by NBC from advertising during the Super Bowl in 2009.
"I did not invent adultery," the CEO says. "Along with marriage there is infidelity. I am merely trying to create a near perfect affair."
Biderman says that Japan's demographics — such as its high rate of sexless marriages — will make it Ashley Madison's number two market after the U.S.
"Japan may have a lot of deai-kei sites," he says, referring to dating services. "But I think our launch will have a large impact, ultimately changing the deai-kei market."
Source: "Deai-kei saito no seiryokuzu ga kowaru? Furin senmon SNS 'Ashurei Madison' ga Nihon joriku," Weekly Playboy (July 22, page 55)
Note: Brief extracts from Japanese vernacular media in the public domain that appear here were translated and summarized under the principle of "fair use." Every effort has been made to ensure accuracy of the translations. However, we are not responsible for the veracity of their contents. The activities of individuals described herein should not be construed as "typical" behavior of Japanese people nor reflect the intention to portray the country in a negative manner. Our sole aim is to provide examples of various types of reading matter enjoyed by Japanese.