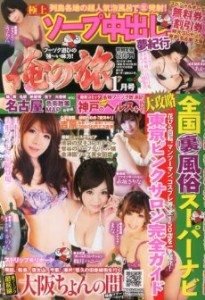 On January 31, the site My Navi Woman revealed the results of a personal finance survey conducted last October among 90 women aged between 30 and 34. While the majority of the respondents (30 percent) had less than one million yen in savings, a surprising 13 percent claimed to have over 10 million yen socked away.
In a follow up story, evening tabloid Nikkan Gendai (Feb. 4) says that a number of female employees in the fuzoku trade, or commercial sex industry, are becoming adept at financial planning.
Make no mistake, most working ladies still blow huge sums of cash at host clubs and deadbeat boyfriends, but those who undertaking investment schemes is significant — and growing, or so says Sumiko, an employee at an erotic massage parlor.
"The balance in my regular bank account is one million yen," says the 35-year-old. "For the rest, I utilize various money management practices."
The masseuse invests her money in five-year corporate bonds, yielding over two percent in interest, stocks and investment trusts. The current value of her portfolio is 50 million yen.
An acquaintance of Sumiko, an employee at a soapland bathhouse, has accumulated 20 million in savings over 18 months by steadily investing a portion of her income. She hopes to be able to "live a comfortable life" within eight years.
Fuzoku writer Taizo Ebina says that purchasing real estate investment trusts and gold is fine for fuzoku femmes with a steady income, but for others wealth accumulation is achieved via other means.
"A gal may buy a Rolex watch at a pawnshop and be able to sell on an online auction site for a profit of between 20,000 and 30,000 yen," says Ebina. "There's also the scheme whereby a hostess will pawn one of two identical brand bags given to her by a pair of customers."
Sometimes the women remain in the business after retirement.
"I hear about some gals who will use their savings to go into managing a 'delivery health' operation," says the writer in referring to a call-girl service.
Ebina says that a woman's background plays a crucial role in whether she focuses on saving or splurging. "Those coming from middle-class households or who have experienced a divorce due to an indebted husband are the ones who save," says Ebina. "On the flip side, gals coming from poverty are the types who will wind up spending irresponsibly at host clubs," he says.
Source: "Shikin 5000manen no tatsujin mo fuzoku-jo tachi no 'zaiteku' raifu," Nikkan Gendai (Feb. 4, page 5)
Note: Brief extracts from Japanese vernacular media in the public domain that appear here were translated and summarized under the principle of "fair use." Every effort has been made to ensure accuracy of the translations. However, we are not responsible for the veracity of their contents. The activities of individuals described herein should not be construed as "typical" behavior of Japanese people nor reflect the intention to portray the country in a negative manner. Our sole aim is to provide examples of various types of reading matter enjoyed by Japanese.