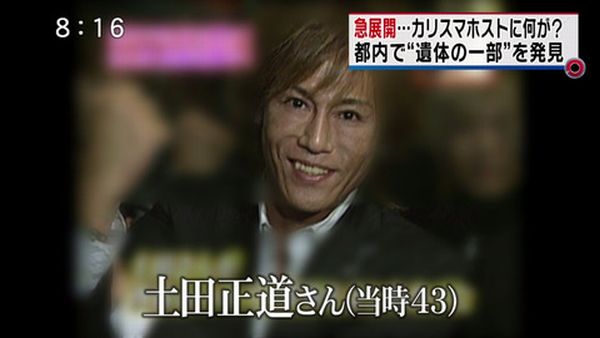 "It is the perfect crime."
According to evening tabloid Nikkan Gendai (Sept. 21), the above statement was supposedly uttered by 31-year-old Eiichiro Genchi, who is one of five suspects in custody in the death of host club employee Masamichi Tsuchida, the 43-year-old who disappeared nearly three years ago.
Last week, police arrested the suspects, including two colleagues, Genchi and Takuya Abe, 26, and the victim's wife, for allegedly utilizing a pipe cleaning agent to dissolve his corpse.
Tsuchida, who was employed at a club in Hachioji, was last seen at his home on November 25, 2010. He told his wife he was going to work and would return over the weekend. His last correspondence was by phone, in which he said he had a meeting that afternoon.
According to police, Tsuchida's wife had purchased large amounts of sodium hydroxide, which is used as an industrial detergent, soon after his disappearance.
"With that they dissolved his corpse," says an investigator affiliated with the case. "He was washed down the drain pipe. Of course, it wasn't instantaneous; it was a methodical process that took time."
Nikkan Gendai says that the Internet offers a number of tips for amateurs in dismembering a dead body that can give the hallmarks of a real pro.
"In 2008, a man carved up a female corpse with a knife in Tokyo's Koto Ward and flushed it down the toilet with the assistance of a cleaning agent," says a retired police officer. "If you do searches (on the Internet) with words like 'know how' several means for dismemberment will be readily available."
The easy availability of such information is frightening, says the former cop. "Is this what Genchi used as well?" he wonders.
In July of last year, Genchi and Abe were arrested on destruction of property charges for smashing Tsuchida's mobile phone.
The following September, Abe was found guilty and received a prison term of three years, which was suspended for 12 months. During the trial, the defendant denied having any knowledge of the whereabouts of his missing co-worker. Genchi, who formerly managed the club with Tsuchida, was also found guilty and received a suspended sentence.
However, the crime was far from perfect. In April of this year, a search of a sewage tank at the home of Abe's 59-year-old father revealed a facial bone and tooth filling of Tsuchida.
As to a motive for the killing, the article says that Tsuchida was one million yen in debt. "He was a tough guy," says previously quoted investigator. "He wouldn't resign [from the club], and the two suspects [Abe and Genchi] resented him for that."
Source: "Hachioji hosuto jiken 'itai tokashi' ha netto no 'nou hau' sanko ka," Nikkan Gendai (Sept. 20)
Note: Brief extracts from Japanese vernacular media in the public domain that appear here were translated and summarized under the principle of "fair use." Every effort has been made to ensure accuracy of the translations. However, we are not responsible for the veracity of their contents. The activities of individuals described herein should not be construed as "typical" behavior of Japanese people nor reflect the intention to portray the country in a negative manner. Our sole aim is to provide examples of various types of reading matter enjoyed by Japanese.