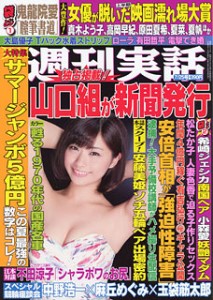 "Open up! This is the police, stay as you are!"
On the afternoon of June 22, officers entered a suite room at a high-end hotel in Tokyo's Shinjuku Ward. Inside, 14 female prostitutes were found to be entertaining 27 male customers.
Four employees of Buena, including manager Shin Nakayama, 39, were taken into custody for violating the Anti-Prostitution Law regarding the offering of services.
With the ages of some of the working girls extending beyond 50, Shukan Jitsuwa (July 25) says that the market for the jukujo, or mature lady, is still booming.
The club, which typically utilized ritzy rooms on the west side of the metropolis, collected 60 million yen in revenue annually. Customers, who were recruited via the Internet, paid an entrance fee of 50,000 yen.
A local news writer tells Shukan Jitsuwa that when the cops entered the premises they noticed a group of people "preparing for battle" in the shower. "Another set consisted of participants fully engaged in sexual contact," says the writer. "Onlookers, their bodies wrapped in bath towels, formed a circle around them."
A similar crackdown took place four days later. Officers arrested the 63-year-old manager of club Silk, Kazuko Suwa, and one other employee for dispatching a woman, 64, to supply sexual services to an 82-year-old man at a hotel in Tokyo. Dubbed "super senior," the club was staffed by 16 women, whose ages range between 46 and 73.
One Silk regular tells the magazine that he prefers older women. "Even if she is a spunky thing the minute she lies down she goes nearly dead," says the man, who is 70 years old. "These gals want to get it over with quickly, and their behavior is rude."
On the other hand, women over the age of 50 tend to be much more amenable. "There is a building sensation of togetherness," he says. "As to the act of intercourse, she realizes that it is a joint effort between man and woman."
Complicating matters for older ladies, however, is the fact that number of seniors who remain sexually active is on rise, says the manager of a popular "delivery health" (out-call sex) operation in Ikebukuro.
"While we hope they can be satisfied with our escort services" — which by law can only include non-coital services, such as a blow-job — "there are so many of them who to 'stick it in.' Some girls will wind up fleeing from customers back to office."
The manager says that the recent busts may be a sign. "In one sense, the days of radical services for seniors may be coming to an end," he says. (K.N.)
Source: "Jukujo ura shobai kakkyu! Tonai kokyu hoteru mappiruma 41nin oo ranko tekihatsu," Shukan Jitsuwa (July 25, page 209)
Note: Brief extracts from Japanese vernacular media in the public domain that appear here were translated and summarized under the principle of "fair use." Every effort has been made to ensure accuracy of the translations. However, we are not responsible for the veracity of their contents. The activities of individuals described herein should not be construed as "typical" behavior of Japanese people nor reflect the intention to portray the country in a negative manner. Our sole aim is to provide examples of various types of reading matter enjoyed by Japanese.