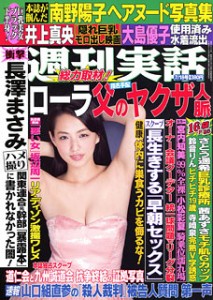 "For elderly men it takes time for them to have an erection. So at this club there is a very reasonable 30,000-yen course that extends for three hours."
The commentary above, reports Shukan Jitsuwa (July 18), is from a 73-year-old female employee of a Tokyo-based hooker club specializing in senior citizens that was busted last month.
On June 26, officers arrested the 63-year-old manager of club Silk, Kazuko Suwa, and one other employee for dispatching a woman, 64, to supply sexual services to an 82-year-old man at a hotel in Tokyo — a violation of the Anti-Prostitution Law.
"Because the female employees are seniors themselves they know which sweet spots to slowly lick and caress," the aforementioned employee assures.
According to the magazine, such attentiveness proved to be highly lucrative in the booming market of selling sex to the elderly.
Club Silk collected 320 million yen in revenue since 2001. In recent months, earnings exceeded five million yen.
Dubbed "super senior," Silk was staffed by 16 women, whose ages range between 46 and 73. The average age was 63. The 73-year-old prostitute, who is collecting welfare, told police that she thought of the work as a part-time job.
This is the not first bust of such an operation. Promiscuity club Kairakukukan was cited in February.
"Both clubs were very popular with senior citizens receiving welfare and a pension," says a writer covering the fuzoku trade, which is adult entertainment. "Even without large-scale advertising campaigns interest exploded."
The services provided were tailored to meet the demands of the market, says the manager of a popular "delivery health" (out-call sex) operation in Ikebukuro. "Silk has a 9,000-yen course that extends for an hour," says the manager. "That's plenty of time. For a jukujo (mature gal) her physiology is such that intravaginal ejaculation is normal. Especially for a lot of guys in 'silver generation' their approach is to just see a hole and stick it in."
Such requests are not always the case. One regular, 68, tells Shukan Jitsuwa that he really fell for a 57-year-old hooker at Silk. "Her husband died the year before," he says. "I am married but that (relationship) ended a while ago."
The customer says even after hearing about the bust he still meets with his companion. "Love during one's declining years does not stop," he says. (K.N.)
Source: "Tekihatsu chojukujo-ten ha hyozan no ikkaku shinia wo tori ni suru baishun supotto oo honjo jijo," Shukan Jitsuwa (July 18, page 44)
Note: Brief extracts from Japanese vernacular media in the public domain that appear here were translated and summarized under the principle of "fair use." Every effort has been made to ensure accuracy of the translations. However, we are not responsible for the veracity of their contents. The activities of individuals described herein should not be construed as "typical" behavior of Japanese people nor reflect the intention to portray the country in a negative manner. Our sole aim is to provide examples of various types of reading matter enjoyed by Japanese.