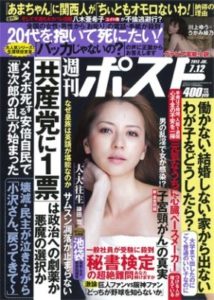 In strolling around Ikebukuro Station, one is struck by the large number of signs indicating that persons under 18 years of age are not allowed inside.
These fuzoku businesses, which offer a number of different adult-entertainment options, are typically promoted by touts roaming the streets.
"Hey, buddy," says one black-suited gentleman. "Are you interested in girls? Ikebukuro has the cheapest high-level clubs in Japan."
Time was, the best place in Tokyo for high bang-for-your-buck value was Shinjuku's Kabukicho red-light district. According to Shukan Post (July 12), more punters are now found four stops up the Yamanote Line, in Ikebukuro.
Akira Ikoma, the editor of a guide to men's entertainment called Ore no Tabi (My Journey) says that the clean-up drive that has unfolded over the last decade has hit Kabukicho hard. By the end of 2005, law enforcement had busted 280 brothels, clubs, and casinos, arrested 400 gangsters, and cited 1,000 foreigners for visa violations. "The shops that got busted flowed into Ikebukuro," says the editor.
Ikoma adds that the merging earlier this year of the Tokyu Toyoko Line with the Tokyo Metro Fukutoshin Line (which passes through Ikebukuro) at Shibuya Station made access to the area more convenient and improved its image. "In comparison to the scary environment of Kabukicho, the atmosphere of Ikebukuro is easy-going. As a result, women from Saitama and Tochigi prefectures successively stated to commute here to work."
With more fuzoku shops entering the market, a lot of working girls sought out jobs. Yet this caused intense competition whereby the cause was a boost in quality of services and a drop in prices, with a large number of genres — including largest-breasted women, short chicks, chubby gals, and foreigners — being widely available.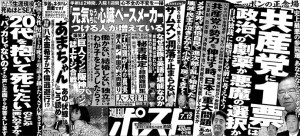 "The jukujo is what comes to mind when one mentions Ikebukuro," says Ikoma in referring to a "mature" lady, whose popularity is booming. "Years ago, these places operated out of one-room apartments," he says. "But nowadays, they consiste of clubs with elaborate signage out front. Thanks to the so-called 'MILF boom' around the world, this is a firmly established genre."
Though considered older women, these gals are typically lovelies in their 30s and 40s, the editor assures. "Back in the day, the jukujo was a lower rung in soapland bathhouse rankings," Ikoma says. "Now the demand is huge. Also, many customers are elderly guys. They prefer a woman closer to their age as opposed to a young girl, whose technique might not be what they desire."
Source: "Ki ga tsukeba 'Nihon no fuuzoku-gai,'" Shukan Post (June 12, page 172)
Note: Brief extracts from Japanese vernacular media in the public domain that appear here were translated and summarized under the principle of "fair use." Every effort has been made to ensure accuracy of the translations. However, we are not responsible for the veracity of their contents. The activities of individuals described herein should not be construed as "typical" behavior of Japanese people nor reflect the intention to portray the country in a negative manner. Our sole aim is to provide examples of various types of reading matter enjoyed by Japanese.