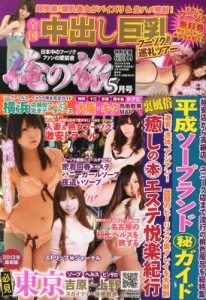 Prime Minister Shinzo Abe's pledge to raise government spending and apply substantial monetary easing — collectively known as "Abenomics" — has boosted the Nikkei stock index by more than 50 percent since November and sent the consumer confidence index for February to its highest level in more than five years.
Tokyo Sports (Apr. 24) wonders when these positive developments might translate into a rise in business for adult-entertainment clubs. For an inside scoop, the tabloid turns to Akira Ikoma, the editor of a monthly guide to men's entertainment called Ore no Tabi (My Journey).
"I've been hearing from employees in Yoshiwara that people who profit from the stock market appear to be coming to Yoshiwara," says the editor in referring to the Tokyo's biggest brothel quarter. "Until this point, it had been mostly pensioners filling the waiting rooms of the bathhouses. The hope is that Abenomics will continue to have an impact."
The goal of Abenomics is to end Japan's multi-decade battle with deflation by increasing prices. Tokyo Sports says that the media has focused on individuals who have been making a killing in the market, but wonders whether there will actually be price increases at the nation's bathhouses.
"Businesses in the sex industry are always the last to feel the effects of an economic environment," says the editor. "It appears that this is still a period of deflation. There has been no sudden jump in prices."
In Japan's adult-entertainment industry, deflation has dropped prices considerably. This has forced an industry-wide reorganization, with many small shops being absorbed into bigger group companies.
Earlier this year, Ikoma predicted a continued drop in prices. He remains pessimistic.
"Deflation should continue," he says. "In Yoshiwara, customers can still be serviced at soaplands for 5,000 yen."
Source: "Fuzokukai nimo Abenomikusu oikaze," Tokyo Sports (Apr. 24)
Note: Brief extracts from Japanese vernacular media in the public domain that appear here were translated and summarized under the principle of "fair use." Every effort has been made to ensure accuracy of the translations. However, we are not responsible for the veracity of their contents. The activities of individuals described herein should not be construed as "typical" behavior of Japanese people nor reflect the intention to portray the country in a negative manner. Our sole aim is to provide examples of various types of reading matter enjoyed by Japanese.