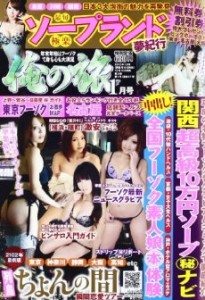 With a recent boost in Japan's stock prices giving hope for an economic recovery in 2013, Tokyo Sports (Jan. 8) figures that might translate into a rise in business for adult-entertainment clubs.
The tabloid turns to Akira Ikoma, the editor of a monthly guide to men's entertainment called Ore no Tabi (My Journey), for an inside scoop on industry trends.
"Even with hope of an economic recovery, economizing on the part of patrons will continue," says the editor.
Ikoma predicts three themes will unfold in the coming year: free club visits, the sharing of sex workers, and an environmentally friendly attitude.
In the first case, Ikoma says discounts for volume business will be encouraged. "For example, if three guys go into a fuzoku club," says the editor, referring to a sex shop, "one guy will be on the house. Also, if a customer uses a particula club four times, one trip will not be charged.
"They key for the clubs is to keep customers coming," he says. "Allowing female employees to sit around with nothing to do is to be avoided."
The sharing of sex workers, similar to the practice utilized for apartments or cars, will be another factor.
"For some popular girls it is tough to get a reservation," continues Ikoma. "Customers interested in coming to a club for a particular girl will be given the option of sharing her with another customer."
The concept is friendly to light wallets. The editor estimates that a customer will outlay 15,000 yen for 60 minutes if going solo, yet that figure would drop to 10,000 yen over that same period if in tandem.
The third trend will be the development of an environmentally friendly business plan. "Services at soaplands will be cut," says Ikoma, referring to erotic bathhouses, "This will include the use of a mat and ofuro (bath), and time periods will be shortened. Of course, that will mean a drop in prices."
Frequent, fast, frugal — Tokyo Sports likes how 2013 is shaping up. (A.T.)
Source: "Fuzoku no torendo mo 'eko,'" Tokyo Sports (Jan. 8)
Note: Brief extracts from Japanese vernacular media in the public domain that appear here were translated and summarized under the principle of "fair use." Every effort has been made to ensure accuracy of the translations. However, we are not responsible for the veracity of their contents. The activities of individuals described herein should not be construed as "typical" behavior of Japanese people nor reflect the intention to portray the country in a negative manner. Our sole aim is to provide examples of various types of reading matter enjoyed by Japanese.