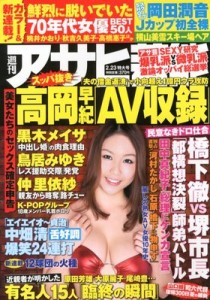 Rumors of a potential adult video (AV) debut by actress Saki Takaoka are currently swirling through the industry. Shukan Asahi Geino (Feb. 23) reports that the interest is due largely to the amazing success of Minako Komukai.
Komukai, 26, a popular pin-up model and stripper, released her first AV film last year through label Alice Japan. Sales topped 200,000 units, a whopping figure considering hit status is generally reserved for a mere 10,000 discs.
Shukan Asahi Geino says that the business is being influenced by the "Minako Komukai effect," whereby AV producers are seeking big-name talent from other areas of entertainment to make AV appearances.
"AV labels had previously been targeting various big names, perhaps former celebrities, idols or actresses, from the entertainment industry to make appearances," says an employee at a production company. "But Komukai's impact has been tremendous, reaching mega-hit status. Makers and producers are now running around looking for Minako Komukai II."
Tokyo Sports (Feb. 7), on page one, first reported that the 39-year-old Takaoka received an offer of 100 million yen from an AV producer to appear.
Speculation is now swirling around Takaoka, who Asagei says is suffering through challenging times.
"She gave birth to her third child in September," says an entertainment writer at a sports paper. "Her common-law husband ran out on her, leaving behind massive debts. So she that, three kids, and her mother in one house — and it all rests on her shoulders."
Komukai, for her part, also endured various difficulties before releasing her first film, including multiple arrests for drug violations.
In 2006, Takaoka appeared nude in a book ("Time Difference") by renowned photographer Kishin Shinoyama. The magazine says that if the actress decides to take the next step it will not only clear her financial trouble but open her up to new directions in life.
"Over the past 10 years her priority has been with raising her children. She has shied away from sexy roles," says a source quoted by the magazine. "However, her oldest son is fully grown. The offer is also within her line of work. So there is no real reason for her to refuse." (K.N.)
Source: "Bijotachi no kakutei shinkoku Takaoka Saki '1 oku en AV' shuroku kobo," Shukan Asahi Geino (Feb. 23)
Note: Brief extracts from Japanese vernacular media in the public domain that appear here were translated and summarized under the principle of "fair use." Every effort has been made to ensure accuracy of the translations. However, we are not responsible for the veracity of their contents. The activities of individuals described herein should not be construed as "typical" behavior of Japanese people nor reflect the intention to portray the country in a negative manner. Our sole aim is to provide examples of various types of reading matter enjoyed by Japanese.