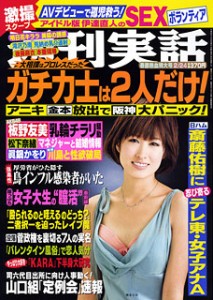 Get this, demands weekly tabloid Shukan Jitsuwa (Feb. 24), for a mere 10,000 yen punters can now receive an hour's worth of adult services — along with use of a love hotel room — and at a location smack dab in the Minami district of Osaka.
Too good to be true? Apparently not. The Kansai area is facing a major crisis regarding demand for fuzoku fare in spite of the growing number of cheap brothels. The result is working gals are packing their bags and shipping out of Osaka.
"Girls are migrating to Nagoya where they are paid one-and-a-half times what they earn in Osaka," says a manager of an out-call hote heru service. "In addition to more attractive wages, Kansai girls are popular in Nagoya since their accents are considered cute."
It comes down to simple mathematics. That 10,000-yen fee can be broken down as follows: 1,500 yen to the hotel, 3,000 yen to the shop, and 5,500 yen for the girl.
The tabloid emphasizes that the girl's share cannot be negotiated down.
"The 3,000-yen price is pretty much the break even point," says that same manager. "If the shop tries to increase its profit, it will result in only older girls willing to work."
It would appear, concludes the weekly, that income disparities spreading throughout the nation are not limited to the aboveground economy. (A.T.)
Source: "Kasegenai Kansai musume ga Nagoya he tobo?" Shukan Jitsuwa (Feb. 24, page 200)
Note: Brief extracts from Japanese vernacular media in the public domain that appear here were translated and summarized under the principle of "fair use." Every effort has been made to ensure accuracy of the translations. However, we are not responsible for the veracity of their contents. The activities of individuals described herein should not be construed as "typical" behavior of Japanese people nor reflect the intention to portray the country in a negative manner. Our sole aim is to provide examples of various types of reading matter enjoyed by Japanese.