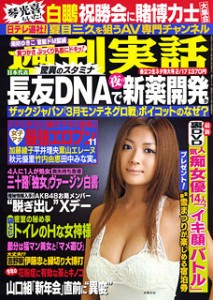 Maid-themed establishments have become so prevalent in Osaka's Nipponbashi district that the only means for a proprietor to make a buck is for the gals to offer increasingly intimate services, reports weekly tabloid Shukan Jitsuwa (Feb. 17).
Nipponbashi, a rough equivalent to Tokyo's Akihabara area, offers tech nerds (or otaku) the opportunity to browse shops offering electronics or erotic anime DVDs and be attended to by a gal attired in a frilly costume in a cafe setting. The trend for the latter, however, appears to have reached saturation.
"Struggling arcades and video game shops are converting into maid cafes because it is a simple job from an interior point of view," explains an Osaka-based reporter, "and this is the right time in the business cycle to make money."
Maid establishments vary in services rendered: simple coffee and snacks, erotic massages, ear cleaning, or casino games.
Passersby can spot maids along Nipponbashi's main drag, known as "Ota-dori" (otaku street) distributing fliers for their shops. On weekends, the avenue will be especially crowded with these girls, the article reports.
"When you reach a point where the market for maid establishments is as saturated as it is now, how adorable your girls are will not win customers," says a maid cafe owner. "Some massage places are offering intimacy, such as letting customers lay down next to the maids for 1,000 yen for 10 minutes. Some also will let customers touch the girls."
It is not only shop managers, however, who are getting aggressive. Girls, too, are offering value-added services — in other words, fuzoku-related frolic.
"Many maids are secretly starting to provide discrete services in order to establish regulars," says the same Osaka-based reporter. "They'll charge extra on their own for these extra services. This kind of thing has led to rumors about which girls will allow for a customer to cop a feel or even get full service. I'd guess that some shops will soon take advantage of this and start offering illegal out-call services."
Shukan Jitsuwa reports that the Osaka prefectural police are looking into any violations of child welfare and adult entertainment statutes. In any case, the tabloid concludes, Osaka's otaku oasis is indeed turning into an adult playground. (A.T.)
Source: "Kansai no Akiba: Osaka Nipponbashi de gekika suru meido osawari saabisu," Shukan Jitsuwa (Feb. 17, page 209)
Note: Brief extracts from Japanese vernacular media in the public domain that appear here were translated and summarized under the principle of "fair use." Every effort has been made to ensure accuracy of the translations. However, we are not responsible for the veracity of their contents. The activities of individuals described herein should not be construed as "typical" behavior of Japanese people nor reflect the intention to portray the country in a negative manner. Our sole aim is to provide examples of various types of reading matter enjoyed by Japanese.