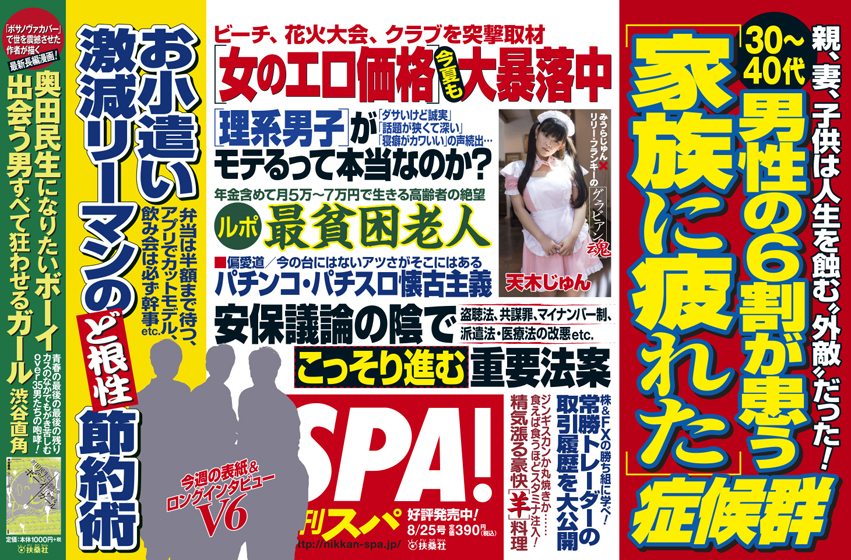 Japan is a rapidly aging nation in which elderly citizens represent more than one quarter of the population.
But for many seniors these are hardly the golden years: The percentage of those over the age of 65 who have an annual income less than 1.22 million yen (the relative poverty benchmark) is roughly 20 percent.
In a special report on poverty among the older set, weekly tabloid Spa! (Aug. 25) speaks with a 70-year-old woman struggling to make ends meet as a janitor.
Though her lifestyle is a far cry from her go-go days as an employee at a soapland bathhouse in the Fukuhara district of Kobe, she is still up to her old tricks, so to speak.
"When I was soapland girl, I earned three times that of the average salaryman," she tells the magazine. "But all of that (money) went to supporting men."
Now she earns a mere 80,000 yen each month and receives no pension. After each 10-hour shift, she returns to her decrepit, 50-year-old apartment. Her savings are nil.
"I work from morning until night, and on the weekends too," she adds. "But I played around when I was younger. Do I have regrets? No way!"
Check that, she has one; she wishes should would have set aside some of the cash splurged on boyfriends for an air conditioner.
"I have an old friend who runs a fish shop in along a shopping street," she says. "He gives me (leftover) ice in plastic bags to keep me from smelling the stinky fish. I put that in my bathtub. It is so relaxing."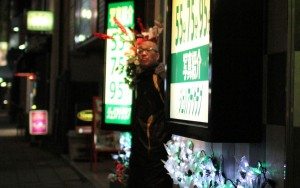 Her monthly food allowance is just 5,000 yen — but she has a few secrets for stretching that amount.
"I buy a six-pack of bread for 120 yen," she says. "I then cut each slice in half. That way, I have bread to eat for 12 days."
Another method involves inviting old customers over to her place for a little fun.
"You know, after all, I am a woman," she says. "I've got some nice guys coming to take care of me."
Is she worried about the future?
"If can still reel in customers I'll get by somehow," she says. "It's just a matter of patience." (A.T.)
Source: "Sakanaya no koori de wo toru, moto soopu-jo no seisoin," Spa! (Aug. 25, page 29)
Note: Brief extracts from Japanese vernacular media in the public domain that appear here were translated and summarized under the principle of "fair use." Every effort has been made to ensure accuracy of the translations. However, we are not responsible for the veracity of their contents. The activities of individuals described herein should not be construed as "typical" behavior of Japanese people nor reflect the intention to portray the country in a negative manner. Our sole aim is to provide examples of various types of reading matter enjoyed by Japanese.