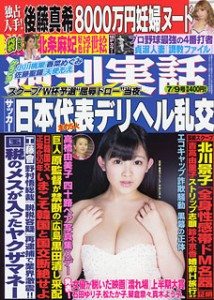 Of the 1,764,700 foreign tourists arriving in Japan in April — an all-time high for any month — 405,800 were from China, an increase of over 100 percent over the year before, according to figures released by the Japan National Tourism Organization.
According to weekly tabloid Shukan Jitsuwa (July 9), many wealthy visitors from the Communist nation are venturing to Osaka to take advantage of Japan's elite medical care — and possibly sample illicit underground "options" on the side.
"There has been a surge in wealthy Chinese since 2012," a Chinese tour operator tells the magazine, "and right now there has been a surge in Japanese medical institutions working with Chinese tour agencies."
The trips are extravagant: A stay at a high-end hotel for four nights, fancy Japanese meals and limousine transportation can run between 1.5 and two million yen.
According to the magazine, the popularity of this form of medical tourism has had an expected side effect: The entertainment districts in Japan's third biggest city are jumping.
"In recent years, package tours had already targeted Chinese tourists arriving at Kansai International Airport for jaunts to strip theaters, (the brothel quarter of) Tobita Shinchi and other red-light districts," says a writer covering the fuzoku (sex-related) trade.
Eyeing this development, Chinese travel agencies are now supplementing the medical tours with visits to "delivery health" out-call services — and making bank. Services catering to Chinese tourists are priced at up to 40,000 yen, a mark-up of roughly 100 percent over that available to the locals.
Yet it is not exactly easy money. As is nearly always pointed out in stories about Chinese tourists and sex in Japan, problems arise due to delusions many Chinese have about Japanese girls. Specifically, they expect out-call girls, who by law are restricted to administering oral or manual services, to behave like a Japanese adult video (AV) actresses.
"Influenced by AV, Chinese tourists think it is reasonable to do face shots, ejaculate inside and engage in the act with others watching," says the aforementioned writer. "As well, there are more than a few who want to get some action while riding in the limousine with the gal on the way to the hotel." (A.T.)
Source: "Chugokujin de arakasegi suru deriheru-tsuki ningen dokku tsuaa no jittai," Shukan Jitsuwa (July 9, pages 45-46)
Note: Brief extracts from Japanese vernacular media in the public domain that appear here were translated and summarized under the principle of "fair use." Every effort has been made to ensure accuracy of the translations. However, we are not responsible for the veracity of their contents. The activities of individuals described herein should not be construed as "typical" behavior of Japanese people nor reflect the intention to portray the country in a negative manner. Our sole aim is to provide examples of various types of reading matter enjoyed by Japanese.