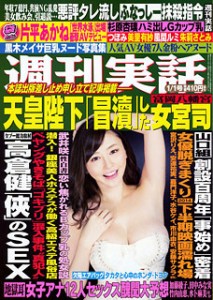 "Don't anyone move, this is the police!"
On December 10 at just after midnight, 20 officers from the Kyoto Prefectural Police entered theater Malacanang Palace, located in the historic Gion district of the former capital. At the time, roughly the same number of male customers sat around the stage as a Japanese woman with the lower half of her body exposed performed a dance number.
Police arrested Motohiko Shioda, the 47-year-old manager, and stripper Yuko Mizumoto, 41, on charges of public obscenity.
According to Shukan Jitsuwa (Jan. 1), the raid shows an international aspect of the underbelly of Kyoto that most tourists don't see.
"Information started coming in about a nude strip show featuring foreign dancers that was attracting tourists," says an investigator. "An undercover investigation was launched from mid-October."
There is table-seating lined up around the stage. At several times over the course of the evening, special shows feature fully naked girls dancing on stage before the audience.
On the day of the bust, investigators arrived a little bit earlier than they had when undercover. "A Japanese dancer (Mizumoto, who was arrested) was on stage," continues the aforementioned member of law enforcement. "They were a bit surprised."
Gion has a number of other fuzoku-related options, including hostess clubs, "fashion health" services, "snack" pubs and girl's bars. But Malacanang Palace differentiates itself by promoting its international performers.
"Always, the gals from Russia, the Philippines, Bolivia and Brazil will let customers fondle their breasts and lower areas," says a local reporter.
According to Malacanang Palace's Web site, the club charges customers 5,000 yen for 60 minutes. An extension of one hour is possible for an additional 5,000 yen. The fee to request personal attention from a particular girl is 1,000 yen…but that's not all.
"If one is a regular, he can enter into negotiations to purchase her uniform (which was removed)," says a fuzoku writer. "It is a big deal to brag about (such a thing) on the Internet."
The writer goes on to say that many customers visit the club from other prefectures while on business trips.
"It is probably one of the reasons that the club caught the eye of law enforcement," says the source.
Source: "'Go kaicho' de goyo Kyoto Gion ta kokuseki sutorippukurabu no mitchaku saabisu," Shukan Jitsuwa (Jan. 1, page 211)
Note: Brief extracts from Japanese vernacular media in the public domain that appear here were translated and summarized under the principle of "fair use." Every effort has been made to ensure accuracy of the translations. However, we are not responsible for the veracity of their contents. The activities of individuals described herein should not be construed as "typical" behavior of Japanese people nor reflect the intention to portray the country in a negative manner. Our sole aim is to provide examples of various types of reading matter enjoyed by Japanese.