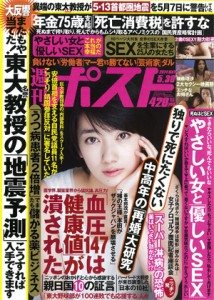 In 2009, a 31-year-old hooker was found by a clinic in Kyoto to be harboring an especially nasty strain of gonorrhea.
After undergoing treatment — an injection of the antibiotic Ceftriaxone — the woman, an employee in the "fashion health" trade, still exhibited a positive reaction. Doctors concluded that the bacteria was a new treatment-resistant strain.
Since then, similar discoveries have been made in Europe and Australia, but the Kyoto case remains the only one ever recorded in Japan.
The matter is once again relevant, reports Shukan Post (May 30), following the release, on April 30, of the World Health Organization's comprehensive report on antibiotic resistance titled "Antimicrobial Resistance: Global Report on Surveillance."
"Without urgent, coordinated action by many stakeholders, the world is headed for a post-antibiotic era, in which common infections and minor injuries which have been treatable for decades can once again kill," said Keiji Fukuda, the WHO's assistant director-general for health security.
One medical expert tells Shukan Post that Japan cannot get caught with its pants down.
"Antibiotics eventually become ineffective in treating gonorrhea," says Tetsuro Matsumoto, the head of the medical affairs division at the city office of Kitakyushu, Fukuoka Prefecture. "At first there was penicillin, but after that became ineffective other drugs were developed and they subsequently became ineffective."
Matsumoto says that in Japan at present the drug Cefixime is effective only half of the time so doctors recommend an injection of Ceftriaxone.
In the case of the Kyoto woman, she exhibited no symptoms of the disease during her routine check-up that January. After the treatment with Ceftriaxone was not successful, she received another dose. This time, an examination revealed that her condition had improved.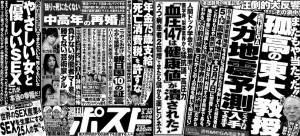 "However, we were unsure if it was due to the injection or whether the bacteria disappeared naturally," says a representative of the clinic.
A sample of the bacteria taken from her throat was tested with Ceftriaxone, and proved to be especially resilient. It was then that medical professionals realized that they had a strain of "super gonorrhea" on their hands.
The case remains a cause for concern.
"Since symptoms of gonorrhea are hard to detect in women, it is likely that there are people with resistant strains of the bacteria who are unaware that they are infected," says Matsumoto.
Matsumoto, who was once vice president of Kitakyushu's University of Occupational and Environmental Health, cautions travelers about engaging in sexual activities while overseas. He also says that it is likely that foreign carriers are bringing the strain into Japan.
"As of now, an easy-to-use an alternative antibiotic to Ceftriaxone does not exist," says Matsumoto. "The harsh reality is that the development speed of new antibiotics by research institutes and national pharmaceutical companies is slow." (A.T.)
Source: "Yakugakikunai! Issho naoranai!? Nihon hatsu 'suupaa rinbyo' no kyofu," Shukan Post (May 30, pages 154-156)
Note: Brief extracts from Japanese vernacular media in the public domain that appear here were translated and summarized under the principle of "fair use." Every effort has been made to ensure accuracy of the translations. However, we are not responsible for the veracity of their contents. The activities of individuals described herein should not be construed as "typical" behavior of Japanese people nor reflect the intention to portray the country in a negative manner. Our sole aim is to provide examples of various types of reading matter enjoyed by Japanese.