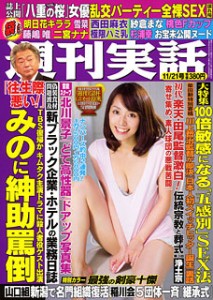 Just before 6:00 p.m. on October 15, Aichi Prefectural Police discovered a film crew were preparing to shoot an adult video (AV) inside a public park in Nagoya's Nakamura Ward.
Most interesting to Shukan Jitsuwa (Nov. 21) was that the production — within the "outdoor play AV" genre — was set to unfold as Typhoon Wipha, whose predicted intensity occurs only once each decade, barreled onshore.
First reported in Yomiuri Shimbun (Oct. 31), officers later applied obscenity charges on director Ben Takatsuki, 39, hospital employee Masahiko Sago, 56, and a 20-year-old female college student.
The crew of 10 utilized a station wagon parked in a riverbed at Biwajimabashi Ryokuchi Park.
A local-news reporter says that at the time of the filming the typhoon was drawing closer and there was a lull in intense wind and rain. "The area is typically not a place where people happen past," says the reporter. "But many interested parties arrived to check out the depth of the swollen river."
An eyewitness then phoned in a tip to police about a possible kidnapping. When officers arrived, they observed the female, dressed in a sailor uniform, performing oral sex on Sago.
"The AV director is not with a big-name company," says the aforementioned reporter. "He mostly does indie-type productions. So it is likely that he was forced to shoot in spite of the bad weather."
A person involved in the production tells the tabloid that the film was about the rape of a farmer's wife by an elderly man. "The script called for him to probe her from behind before moving on to the missionary position on the grass," says the source.
The same local-news reporter says that Sago has performed in AV productions on a number of occasions. As to the college student, her well-proportioned body was perfect in conveying that of a youthful spouse of a man in agriculture.
"However, filming got cut short after the tip," says the person involved in the production.
With weather conditions unstable, there was a "happy ending" after all, concludes Shukan Jitsuwa. (K.N.)
Source: "Nagoya aokan AV satsuei de joshi daisei ga taiho sareta taifu tachi bakku genba," Shukan Jitsuwa (Nov. 21, page 48)
Note: Brief extracts from Japanese vernacular media in the public domain that appear here were translated and summarized under the principle of "fair use." Every effort has been made to ensure accuracy of the translations. However, we are not responsible for the veracity of their contents. The activities of individuals described herein should not be construed as "typical" behavior of Japanese people nor reflect the intention to portray the country in a negative manner. Our sole aim is to provide examples of various types of reading matter enjoyed by Japanese.