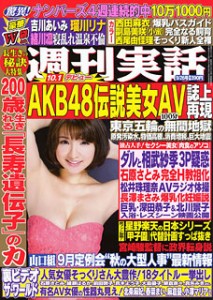 In January, Tokyo Metropolitan Police implemented a large crackdown on maid cafes and so-called joshi kosei (high-school girl) "reflexology" massage parlors.
The cafes and parlors, dubbed "JK rifure" for short, many of which are located in Akihabara, offer male customers ear-cleaning services, shoulder massages and even slaps to the face.
Of particular interest to the police is the option a customer has to take a staff member off the premises on a "walking date," referred to as osanpo, at a rate of 5,000 yen for 30 minutes. In many cases, the jaunt will conclude with a sexual encounter inside a hotel room.
Shukan Jitsuwa (Sept. 26) reports that the establishments in Osaka's Nipponbashi area are putting a twist on the latter service.
"Now, the girls are just going on walks. That's it," says a writer covering the fuzoku trade, which is the adult-entertainment biz. "It gives them peace of mind, and they are rushing into this part-time work."
Yet there are cases when a little nookie is necessary. But instead of partaking in prostitution, the girls are passing their strolling partners onto full-blown sex clubs.
"A gal will con her customer into walking to (entertainment areas of) Minami and Abeno," says an employee at a fuzoku joint in Minami. "From there, she'll introduce him to either a girl's bar or club. She is effectively working as a guide."
The crackdowns in Tokyo have sent girls to Kansai, says a tout for a club. "You'll see the girls around during the summer and winter vacations," says the tout. "They are not unusual. I have become accustomed to seeing old guys walking with girls doing their best to speak in an Osaka dialect."
The battle continues, concludes Shukan Jitsuwa. (A.T.)
Source: "Deri heru to kanzen renkei de 'fuzoku annaijo' kasuru Osaka Nipponbashi meido ten no osanpo saabisu," Shukan Jitsuwa (Sept. 26, page 50)
Note: Brief extracts from Japanese vernacular media in the public domain that appear here were translated and summarized under the principle of "fair use." Every effort has been made to ensure accuracy of the translations. However, we are not responsible for the veracity of their contents. The activities of individuals described herein should not be construed as "typical" behavior of Japanese people nor reflect the intention to portray the country in a negative manner. Our sole aim is to provide examples of various types of reading matter enjoyed by Japanese.