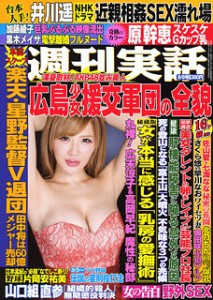 On July 16, officers took the manager of club Max Body, Keiko Saito, 41, and one other employee into custody for allegedly offering sexual services in violation of the Anti-Prostitution Law.
Of the 31 women enrolled at Max Body, whose ages ranged between 20 and 53, the heaviest weighed in at 155 kilograms, while the average weight of the ladies was 100 kilograms. Since 2010, the club collected 400 million yen in revenue.
Weekly tabloid Shukan Jitsuwa (Aug. 8) says demand for bulked-up babes reaches beyond the sex industry.
At least two adult video (AV) producers — JAMS and Maguro Bussan — specialize in features starring ample actresses.
A fuzoku writer adds that some deai-kei "encounter" matchmaking sites specifically target men seeking full-figured females.
"There are 'chubby' and 'fat' categories on the sites," says the writer. "And nowadays, those genres attract more men than those for 'slender' or 'lolicon' (women appearing to be young girls)."
Writer Yukio Murakami says that this trend is proof that men are suffering from a diminished image. "Guys chasing chubby women are seeking to be spoiled," says Murakami. "To appeal to a slim or beautiful woman requires a strict adherence to improving oneself."
But for heavy women that is not the case. They have a certain degree of sweetness, which is important for men facing difficulties in the workplace, for example.
"Men will seek out these women for sex in order to be soothed," says the writer.
Source: "Baishunten tekihatsu mo deta debusen senpu pinku gyokai oo uke saishin jijo," Shukan Jitsuwa (Aug. 8, page 44)
Note: Brief extracts from Japanese vernacular media in the public domain that appear here were translated and summarized under the principle of "fair use." Every effort has been made to ensure accuracy of the translations. However, we are not responsible for the veracity of their contents. The activities of individuals described herein should not be construed as "typical" behavior of Japanese people nor reflect the intention to portray the country in a negative manner. Our sole aim is to provide examples of various types of reading matter enjoyed by Japanese.