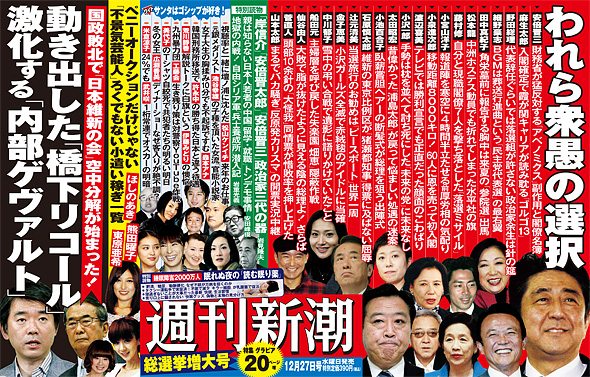 Fukuoka Prefecture's Kitakyushu City has seen quite a few heinous crimes this year.
In April, a former a former detective with the Fukuoka Prefectural Police was shot on his way to work. Three months earlier, the head of a construction company was gunned down in front of his office.
Last summer, a series of attacks and threats befell citizens in the Kokurakita nightlife area. The incidents followed the posting of an anti-gang emblem outside some restaurants and bars.
None of these cases have been resolved. "The Fukuoka Prefectural Police is looking at these cases as crimes committed by the Kudo-kai organized crime group," a national news reporter tells Shukan Shincho (Dec. 27). "The National Police Agency feels a sense of urgency since these attacks are targeting ordinary citizens; they are not disputes between organized crime groups."
The gang, however, is utilizing a very original tactic to clear its name: posting clips on YouTube of its members being questioned by police officials.
Hiroshi Kimura, a top boss in the Kudo-kai, says that they wanted people to understand the rough and irrational behavior of the police. "A member who refused to show the inside of his vehicle during a questioning session was suddenly surrounded by 10 police cars and was held hostage at the scene for four hours," says Kimura. "Another member, who had been followed by a police car, decided to stop his vehicle on the side of the road. He was issued a ticket for not indicating that he was stopping and then arrested for fear that he would flee the scene."
Shukan Shincho says that the Kudo-kai is instructing its approximately 600 members to always carry IC recorders and video cameras.
"While we are blamed for everything, YouTube allows us to transmit the truth," continues Kimura. "We were interviewed this summer by Al Jazeera and decided to upload that program. One member translated the dialogue so subtitles could be added."
The gang's chief says that he has already seen positive outcomes in using YouTube. "The number of irrational interrogation sessions by police officers has declined," he says. "While they still ask to see the inside of vehicles, the total time for the interrogation or search ends in 30 or 40 minutes."
Journalist Akihiro Otani says that it is clever propaganda. "It is perhaps intended to bring sympathy from the general public as ordinary citizens also know how it is uncomfortable when being questioned by police officers," says the journalist. "I am sure the police find this kind of exposure extremely uncomfortable. However, there are no possible counter measures from the police's side. So nothing can be done at the moment."
Source: "Kyushu boryokudan Kudo-kai ikinokorisaku wa tai keisatsu YouTube sakusen," Shukan Shincho (Dec. 27, pages 46-47)
Note: Brief extracts from Japanese vernacular media in the public domain that appear here were translated and summarized under the principle of "fair use." Every effort has been made to ensure accuracy of the translations. However, we are not responsible for the veracity of their contents. The activities of individuals described herein should not be construed as "typical" behavior of Japanese people nor reflect the intention to portray the country in a negative manner. Our sole aim is to provide examples of various types of reading matter enjoyed by Japanese.