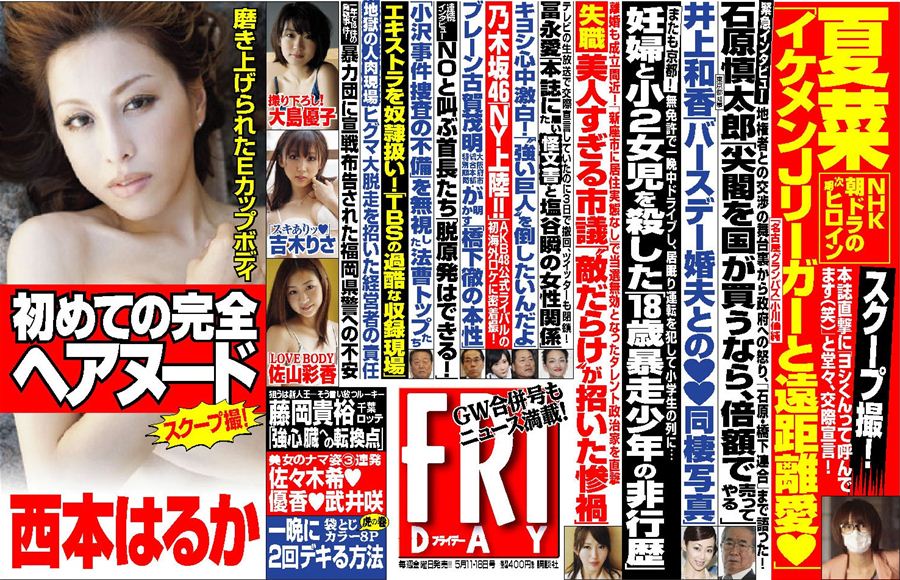 Bang! Bang! Bang!
At around 7 a.m. on April 19, a gunman on a motorbike fires and strikes the left hip and thigh of a man in a business suit walking to work through a residential neighborhood in Kitakyushu, Fukuoka Prefecture. An office lady looks on in horror, and then quickly dials for help as the injured man leans up against a wall, his face exhibiting obvious pain.
The victim is 61-year-old Yasuo Hiroishi, a former detective with the Fukuoka Prefectural Police. His injuries are expected to require one month for recovery. Friday (May 11-18) reports that the incident is just the latest in the ongoing battle between police and organized crime.
"Hiroishi, who retired last March, was involved in dealing with the Kudo-kai gang, which is based in Kitakyushu," says a reporter covering the police beat. "After retirement, he spotted a high-ranking member and other foot soldiers by his home, so he was included on a protection watch list kept by police. It is believed that the crime was carried out by the Kudo-kai."
Over the last year, there have been 18 shooting incidents in Fukuoka Prefecture in which organized crime is suspected to have been involved. Arrests have been made in only two cases. Three incidents have taken place this year, including the shooting on April 8 that left a senior member of the Kyushu Seido-kai syndicate in critical condition.
The construction industry has been slowly attempting to eliminate gangsters from their projects — a move that has made its companies a target. The homes of employees at Kyushu Electric Power and Saibu Gas were the targets of grenades in March. Two months before, a construction company president was shot in front of his home. In April 2010, three shots were fired into the house of the parents of an employee at energy contractor Saibu Gas in Fukuoka. Soon after, five more rounds were fired at the entrance of a firm affiliated with the contractor.
Hiroshima Ogawa, the Governor of Fukuoka Prefecture, was joined by the mayors of both Fukuoka City and Kitakyushu in making a plea with Jin Matsubara, the Chairman of the National Public Safety Commission Chairman, regarding the inception of a revised law to combat organized crime.
After a law intending to eliminate organized crime, or boryokudan, went into effect in April 2010, citizens were required to report threats of extortion.
Should a revised law go into effect, it will enable the law enforcement to designate organizations, such as the Kudo-kai, as "especially threatening organizations" — a label that would result in arrests should a threat be made to an individual or company.
Another individual involved in the investigation tells Friday that Hiroishi was likely singled out due to his longevity on the force. "He's handled boryokudan cases since he joined the Kokura Kita Police Station in 1978," the source says. "He is like an old dog, collecting information by himself, not working within the team. He has probably taken a stern attitude towards boryokudan groups, so they might have disliked him."
These sentiments accelerated during 2009, when Hiroishi was a leader of the unit that dealt directly with the Kudo-kai.
"Right before his retirement, he showed a rare sign of weakness, saying that he wanted to step down because he was scared," the investigator continues. "Perhaps the Kudo-kai thought it would be more effective to target a former detective than an ordinary citizen."
Matsubara himself also visited the site of the incident on April 21. "This is a serious challenge to the safety of the citizens and the nation," the Chairman is quoted. At 9:30 a.m, on April 25, the Kudo-kai headquarters in Kitakyushu were raided.
As approximately 20 special-weapons team members stood outside, 100 officers entered the premises and seized about 60 items, including documentation.
This search, however, did not alleviate the concerns of citizens. "Our office was also a target of a shooting," says an employee at a construction firm. "A gangster misunderstood that our managing director had a right to select a vendor for a public works project. Although we did consult with police, they just said we ran into trouble because we are involved with gang groups. We want them to be more dedicated in protecting us." (K.N.)
Source: "Boryokudan ni sensen fukoku sareta Fukuoka Kenkei he no fuan," Friday (May 11-18, pages 104-105)
Note: Brief extracts from Japanese vernacular media in the public domain that appear here were translated and summarized under the principle of "fair use." Every effort has been made to ensure accuracy of the translations. However, we are not responsible for the veracity of their contents. The activities of individuals described herein should not be construed as "typical" behavior of Japanese people nor reflect the intention to portray the country in a negative manner. Our sole aim is to provide examples of various types of reading matter enjoyed by Japanese.