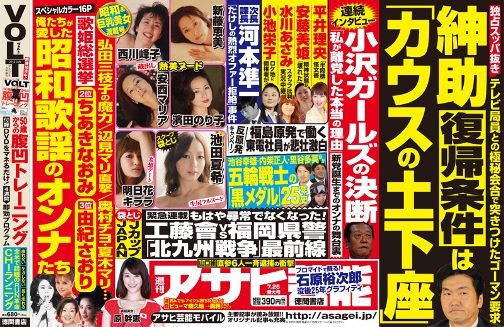 With last month being the seven-year anniversary of the death of award-winning porn starlet Yumika Hayashi, Shukan Asahi Geino (July 19) takes a look back at her 400-film career largely in a specialized genre of porn that this year marks the end of its fifth decade.
On the morning of June 28, 2005, the 34-year-old's body was discovered by her mother and former boyfriend in the bed of her Tokyo apartment. An autopsy determined that she had died on June 26, the day before her birthday.
"Her body was found lying face-down and attired in a gown," read a statement from her family to the press on July 3. "Her face was that of a person who died peacefully."
Police found no evidence of a struggle or foul play, and the autopsy did not determine a cause of death. Though the consequences of a session of binge-drinking the evening before the was later determined to have been the source of her untimely passing.
"The real thing"
Hayashi worked in the adult-entertainment business before making her porn debut in 1989. At that time, it was typical for actresses who separated themselves from the mainstream to perform their roles in ways that were considered less than authentic. Hayashi, however, chose to engage in "the real thing" — and her rise to the top was swift.
She spent much of her 16-year career in pinku eiga, or "pink" film.
"Apartment Wife: Adulterous Behavior," a pink release from 2000, showcased her ability to play the lonely housewife, while "Adultery Bicycle Tour," dating three years before, sees her on a two-wheels and performing with director Katsuyuki Hirano, with whom she had an affair off the set.
AV director Company Matsuo, who was also a real-life beau of the actress, says that he fell adored Hayashi both in public and private. "From the beginning, around the time of her debut, she stood out for being exceedingly charming," explains Matsuo, who is known of pioneering the concept of hamedori, which requires the director to perform as the male lead and hold the camera as it film the steamy sequences. "She knew how to survive in the world by deceiving people of her real age, such as when she entered the adult-entertainment business at a young age. To be blunt, that was her character."
Pink films (usually running for 60 minutes) are made by small companies and differ from conventional porn flicks in that the story lines are generally more broadly developed. Satoru Kobayashi's "Flesh Market" (Nikutai Ichiba), a tale of bondage and torture released in 1962, is widely considered to be the first pink film.
Legacy intact
Hayashi is highly regarded in the genre. Yoshiyuki Hayashida, the founder of the industry periodical PG, says that her legacy is intact.
In 1993, she won Best Actress for her role in "Molester's Train: Nasty Behavior," in which she becomes smitten with a male passenger who films the women he fondles, at the Pink Grand Prix, an annual event that pays tribute to the best in pink films and is supported by PG. Her film "Lunch Box," directed by Shinji Imaoka, won Best Film while she took Best Actress for her role as a 35-year-old who falls in love with a younger man.
"This year is the 50th in the history of pink films," says Hayashida. "She is one who left behind some serious footprints. Each year before her death, we welcomed her to the grand proceedings of the Pink Grand Prix with open arms."
Source: "Sosei no madonna tachi Hayashi Yumika 'jitaku de totsuzenshi' ninki AV joyu ni nokoru haha no ginen," Shukan Asahi Geino (July 26, pages 66-69)
Note: Brief extracts from Japanese vernacular media in the public domain that appear here were translated and summarized under the principle of "fair use." Every effort has been made to ensure accuracy of the translations. However, we are not responsible for the veracity of their contents. The activities of individuals described herein should not be construed as "typical" behavior of Japanese people nor reflect the intention to portray the country in a negative manner. Our sole aim is to provide examples of various types of reading matter enjoyed by Japanese.