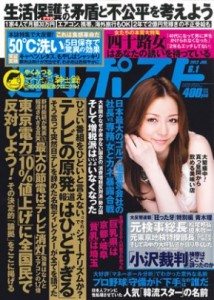 In a special feature dedicated to the current popularity of "mature" ladies, weekly tabloid Shukan Post (June 1) examines an industry of particular interest to regular readers of The Tokyo Reporter, the adult video (AV) biz.
Flip on the television, suggests the magazine. You might see a drama starring Kyoka Suzuki (43) or Yuki Amami (44). TV commentators garnering a high degree of popularity nowadays include Yumiko Udo, Natsuko Kojima, and model Yoshiko Tomioka — all 43 years of age. Celebrities Kyoko Koizumi, 46, Yuriko Ishida, 42, and 40-year-old Rei Dan are also holding their own. Shukan Post believes interest in ladies of this generation is the new mainstream.
"In the past, actresses in their 40s usually performed in motherly roles," explains Kazuhiko Futada, a journalist covering the entertainment trade. "They were never perceived as sex objects. But now actresses of that age have nice physiques, good skin, and a high-degree of sexiness built up through experiences in life. Finally, people are beginning to realize their worth."
Shukan Post says that a separate market has developed for the sale of photo books and AV videos featuring older women.
"The 'mature lady' market for AV has increased between 10 and 20 percent in each of the past few years," says an employee at a porn company. "There are now more than 10 companies specializing in that genre alone."
The insider says that women in their 40s had previously been ignored by the porn industry, with women a decade older and those far younger finding favor among fans. "It is a market with high potential," says the employee.
Goro Tameike, an AV director specializing in the genre, says that women with average muscle development and just a bit of body fat are the most desirable. "Fit ladies in their 40s are the most appealing," says the director, who took prizes in both 2008 and 2009 at the AV Grand Prix for "Stepmother Slave" and "Slave Mother-in-Law."
Tameike says that their attitude is also crucial. "They'll wonder if their bodies are attractive," he says. "It is that modesty that makes men fascinated." (A.T.)
Source: "Fure naba ochin yosoji onna sono miryoku oyobe kanno no shinhakken," Shukan Post (June 1, pages 158-161)
Note: Brief extracts from Japanese vernacular media in the public domain that appear here were translated and summarized under the principle of "fair use." Every effort has been made to ensure accuracy of the translations. However, we are not responsible for the veracity of their contents. The activities of individuals described herein should not be construed as "typical" behavior of Japanese people nor reflect the intention to portray the country in a negative manner. Our sole aim is to provide examples of various types of reading matter enjoyed by Japanese.