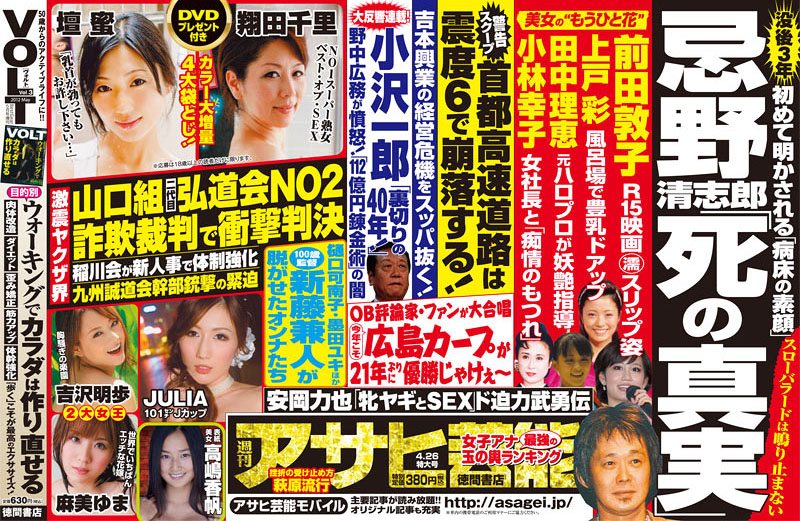 Japan's porn industry is reeling. Low-cost amateur adult video (AV) actresses are being employed on weekends, revenue is suffering, and salaries for pro gals are way down. In considering the latter, Shukan Asahi Geino (Apr. 26) takes a closer look at some of the challenges.
"It goes without saying that one's popularity determines income level," says AV writer Tetsuo Kokko. "An actress who belongs to any particular label will usually have one job a month, which means working maybe two or three days to shoot a film. These days, it is hard to find any girl whose income exceeds one million yen a month."
The types of actresses receiving attention are those who go solo and are featured in productions with themes tailored toward a particular genre.
"These films may lead to an annual income exceeding 100 million yen a year," the writer continues. "Shooting usually lasts only a day so this is the optimal way to earn money. However, the hours are longer and the content usually demands that the performance be at a higher level.
"It consumes one's energy," Kokko continues, "and you usually see only one or two actresses per year who can manage this sort of schedule."
Group shoots are a different story. "While the working hours are shorter," Kokko says, "one can only earn 20,000 or 30,000 yen on up to 100,000 yen per session. Most actresses fall into this category."
Shukan Asahi Geino believes that there are not many actresses who are earning the money they desire. While becoming a stripper was a common option for side work, patrons to such joints are now seeking different styles. Thus, the number of actresses hitting the stage in the buff has declined.
Becoming a theater performer or TV personality was once a common goal, but that is not the case any longer either. "The television and film industries are very conservative," Kokko says. "With the exception of Ai Iijima, most actresses who dreamed of becoming TV personalities are deprived of that opportunity. Of course, this can partially be attributed to these actresses not possessing the required talent. Some of them, such as Yuri Komuro and Hitomi Shiroishi, who are already on TV shows, start to realize this barrier. They might then choose to become writers or enter the music business."
Source: "AV joyu ga fukugyo shita garu 'gyara jijo' 'kikaku-kei' hahito karami tatta suman en," Shukan Asahi Geino (April 26, page 195)
Note: Brief extracts from Japanese vernacular media in the public domain that appear here were translated and summarized under the principle of "fair use." Every effort has been made to ensure accuracy of the translations. However, we are not responsible for the veracity of their contents. The activities of individuals described herein should not be construed as "typical" behavior of Japanese people nor reflect the intention to portray the country in a negative manner. Our sole aim is to provide examples of various types of reading matter enjoyed by Japanese.