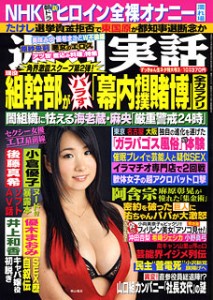 Recently passed local legislation in Kyoto is causing sex-club recommendation centers to emerge in highly unlikely places, reports weekly tabloid Shukan Jitsuwa (Mar. 10).
Following the enactment last November of a law that prohibits the existence of fuzoku navigational shops, the operations have gone underground in the Gion and Kiyamachi districts of Japan's former capital.
(For non-regular readers of Shukan Jitsuwa — shame on you — such places will typically offer computer terminals, area brochures, and guidebooks featuring local clubs that potential customers may use to seek their desired form of debauchery.)
The new variation has taken shape inside usually mundane shops.
"On the surface, ticket stores, second-hand clothes shops, used-book stores, and other types of second-hand stores operate as advertised," says an individual related to a fuzoku shop, "but some are also engaged in providing guidance to fuzoku shops, kyabakura joints, and girl's bars."
Kyoto prefectural police have already cracked down upon conventional navigational shops in enforcing the regulation. But the usual pattern of the shops staying one step ahead of the police is resulting in operators disguising their involvement in such illegal activities.
An employee from the Kyoto City municipal offices says, "When we entered this new standing bar, a staff member approached and, with a grin, said, 'Any plans after this? I know a sexy kyabakura and health club.'"
Those who are monitoring the situation are the fuzoku operators themselves. This recent blow to the industry follows the restrictions placed up the utilization of street touts for attracting customers.
A pink salon owner says that the vibe of the city is on the way down. "It's understandable that the government is against fuzoku operators, but they don't think about what it takes to keep this town going," laments the owner.
"By the time of the Gion Festival (in July), only the long-running fuzoku shops will likely have survived," says a fuzoku writer.
Spring is just around the corner, concludes the weekly, but Kyoto's winter may continue for some time. (K.N.)
Source: "Kyoto de zenmen kinshi no 'kakure annaijo' zoshoku no naze!?" Shukan Jitsuwa (Mar. 10, page 190)
Note: Brief extracts from Japanese vernacular media in the public domain that appear here were translated and summarized under the principle of "fair use." Every effort has been made to ensure accuracy of the translations. However, we are not responsible for the veracity of their contents. The activities of individuals described herein should not be construed as "typical" behavior of Japanese people nor reflect the intention to portray the country in a negative manner. Our sole aim is to provide examples of various types of reading matter enjoyed by Japanese.