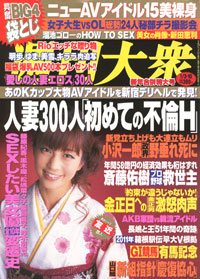 The arrival of a Hooters outlet to Tokyo earlier this year caused many tabloids to associate the move with kurofune, or black ships, a term often used for a non-Japanese person or entity who holds a threatening marketing position, but Shukan Taishu reports that Japan is no slouch when it comes to dining in a sleazy atmosphere.
With the economy still in a tailspin, the weekly tabloid explains that it is important to understand that customers are still tight with their spending.
"Restaurant businesses in Japan typically provide a wide variety of choices," says a reporter from the economic section of a national newspaper. "But offering good-tasting dishes alone is not enough to attract customers. With deflation ongoing, price competition is very tense, and services need to be designed such that they go beyond what has been in the past."
The "girl's izakaya," which is an establishment characterized by waitresses with exposed midriffs, is now garnering attention.
Tokyo's Kanda district appears to be a decent place to get a taste, so to speak. At Izakaya Tsubasa, the female servers serve pork dishes while outfitted in an "army look," which means very skimpy camouflage skirts and tops. Also in Kanda is Izakaya Anzu, where signed photos of the waitresses are available as souvenirs.
If mini-skirted kimono gals are your preference, then Shinjuku's Komachi is a good option. But if you find shirt sleeves a tad confining, stop inside Izakaya Sakura Project, where the ladies are bare from finger to shoulder. Got a thing for nurses? Well, then head down to Osaka's Izakaya 1969, where white-uni-clad gals offer beer and a menu similar to that of a hospital.
"The price range is reasonable," says a managing director at one of the izakayas, "and these places are popular among those who cannot afford girl's bars and kyabakura joints. While there is no intimate hospitality, customers are allowed to enjoy casual talk with young and sexy ladies."
Shukan Jitsuwa (Jan. 6) covers similar territory but digs a bit deeper to find a few places that are more interactive. At Peachs John in Tokyo's Tachikawa district, guests ordering the "marshmallow catch" are entitled to snatch a sugary treat that has been suspended from the crotch area of a hostess.
Shukan Taishu adds that securing staff at one of these outlets is a challenge. "Good looks and an outgoing personality are important," explains another managing director. "We only find 2 or 3 suitable gals out of ten we interview. These qualities are something we cannot compromise upon." (K.N.)
Source: "Ichido ha itte mitai 20 uniiku izakaya," Shukan Taishu (Jan. 3)
Note: Brief extracts from Japanese vernacular media in the public domain that appear here were translated and summarized under the principle of "fair use." Every effort has been made to ensure accuracy of the translations. However, we are not responsible for the veracity of their contents. The activities of individuals described herein should not be construed as "typical" behavior of Japanese people nor reflect the intention to portray the country in a negative manner. Our sole aim is to provide examples of various types of reading matter enjoyed by Japanese.