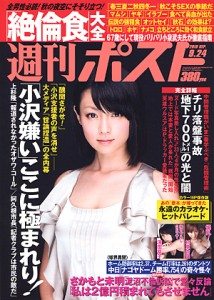 A report from overseas indicating that singer and model Leah Dizon will soon be making her AV debut has aroused the ears of weekly tabloid Shukan Post (Sep. 24).
The tabloid specifically wonders whether Dizon will become the adult video industry's kurofune (黒船), or black ship, a term often used for a non-Japanese person or entity who holds a threatening marketing position. The name comes from the ships, most notably those of Commodore Matthew Perry in 1853, used to open up Japan to trade to the West during the 15th and 19th centuries.
Fans were caught by surprise on September 6 when Hong Kong's leading daily paper Apple Daily provided coverage online that the American-born Dizon is expected to debut in a porn film.
Shukan Post believes that because her father is a Chinese-Filipino she has garnered a large following in Asia, which has resulted in this report being a hot topic on many Chinese websites.
The 23-year-old Dizon made her debut in Japan in 2006 with a photo collection that shipped more than 100,000 copies. The tabloid indicates that a certain sexiness she possesses is not found among Japanese women, and she was already regarded as the kurofune of gravure (pin-up) idols.
Even with such success, she married a stylist in October, 2008 following a pregnancy. The magazine speculates that she has steered clear of erotic work since giving birth.
"The article states that a major porn label from Japan offered her 300 million yen," a Chinese journalist says of the news report. "Leah is, according to the article, jobless after marriage and is bit moved by this high offer. The article continues by saying that Japan's porn industry tends to offer major amounts for big-name talent. In China, Japanese porn is becoming popular, and this news is receiving a lot of attention."
The article compares Dizon to Sachiko Suzuki of music group Wink, who received a big paycheck when she debuted, and assumes that Dizon is worth even more given her young age and name value.
"Even 41-year-old Suzuki is said to have received 30 million yen given that 200,000 copies were sold," explains a managing director of a porn production company. "Leah should easily exceed twice that number. With 300 million yen on offer, she may release a series rather than a one-shot-only affair."
Shukan Post explains that Dizon was known for showcasing her chest in erotic scenes when in the U.S., prior to her initial arrival in Japan. Perhaps, she is ready to reveal further?
"That story is groundless," grumbled a representative from Dizon's promotion agency. "She is at the stage of her career where she is expanding her horizons by being a model or an actress. She has more female fans than male fans these days. She is avoiding such erotic work; she won't even do gravure shoots anymore."
The once raging storm has calmed a bit, concludes Shukan Post, but should Dizon actually debut many men will be calling her ship to port. (A.T.)
Source: "Hong Kong hatsu Leah Dizon sanoku en hodo no shinso," Shukan Post (Sep. 24, page 136)
Note: Brief extracts from Japanese vernacular media in the public domain that appear here were translated and summarized under the principle of "fair use." Every effort has been made to ensure accuracy of the translations. However, we are not responsible for the veracity of their contents. The activities of individuals described herein should not be construed as "typical" behavior of Japanese people nor reflect the intention to portray the country in a negative manner. Our sole aim is to provide examples of various types of reading matter enjoyed by Japanese.