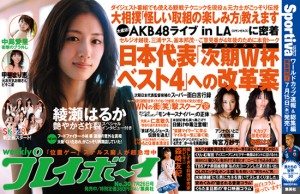 With the illegal gambling activities of sumo wrestlers having been duly exposed in recent weeks, Weekly Playboy (July 26) reports that underground casinos are now coming under fire.
"After the story concerning sumo wrestlers and baseball betting broke, three illegal gambling operations in Kabukicho were raided," explains one illegal casino operator. "They included a gaming room, an Internet operation and poker game shop. I am very worried about a raid on my place."
What's going on?
"Normally there are two patterns for the raids," explains a member of the National Police Agency, who refused to be named. "The first case is when customers or others in the industry report an illegal operation. The second occurs when higher-ups order the police to raid a particular place.
"If it's a customer or person in the industry leaking information, then the raid will be only place shop," the source continues. "However, if (Tokyo Gov. Shintaro) Ishihara announces that he wants to pursue the establishment of a legal casino in Tokyo, for example, multiple places will be raided."
The representative of the police adds that the Japan Racing Association may also request the busting of operations offering illegal, off-track satellite wagering. The crackdown then on the three Kabukicho parlors is unprecedented, the source says.
Customers are feeling the backlash.
"At poker clubs in Kabukicho, it used to be that players could start out up 500,000 yen and then if they continued they might go down one million yen," explains an owner of a kyabakura chain who enjoys betting with poker machines. "Now, you can burn through two or three million yen from the start and not see one royal flush or a four of a kind."
The owner of a fuzoku club likes baccarat. "Before, it would be 50-50, win or lose," the source says. "Not knowing whether one will win or lose is the fun of gambling, and the customer will keep playing. But now, it's all losing."
An underground casino manager says that everyone is being targeted. "We don't know which place will be raided next," the owner explains. " So the owners of the clubs want to earn as much as possible now. As a result, the regulars lose all the time. I feel bad for them. But I have to do it. I can't go against upper management." (A.T)
Source: "Ura kajino jyankii tachi ga rensen renpai no naze?" Weekly Playboy (July 26, page 10)
Note: Brief extracts from Japanese vernacular media in the public domain that appear here were translated and summarized under the principle of "fair use." Every effort has been made to ensure accuracy of the translations. However, we are not responsible for the veracity of their contents. The activities of individuals described herein should not be construed as "typical" behavior of Japanese people nor reflect the intention to portray the country in a negative manner. Our sole aim is to provide examples of various types of reading matter enjoyed by Japanese.