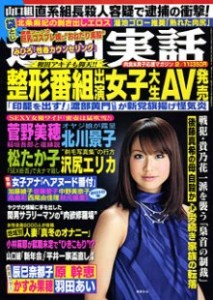 As any television viewer knows well, there's pulchritude a-plenty on the Japanese airwaves. The possible exception would be a show broadcast on Fuji TV and affiliates called "Beauty Colosseum," hosted by beanpole entertainer Akiko Wada.
The show features a stream of weepy women who pour out their woes, while hostess Wada — certainly no great beauty herself — nods sympathetically and occasionally brushes away a tear.
The show's homely subjects have been dealt a losing hand by nature, so to speak, causing them to suffer torment at the hands of their peers. In addition to their being verbally slanged, they suffer other forms of discrimination in education and employment, and needless to say romantic relations with the opposite sex typically run from little to none.
Did we say sex? Well, kindly remain calm until we can provide a few more details from Shukan Jitsuwa (Feb. 11).
After the unattractive subjects of "Beauty Colosseum" are paraded before the cameras, they are shuttled off to a team of plastic surgeons, cosmetic dentists, physical therapists, hair stylists and fashion advisors. By the time they're ready to reappear on the show, they are virtually unrecognizable, and many, hair coiffed, kilos lighter and clad in the latest form-fitting French fashions, are up to the standards of contestants in the Miss Universe Japan pageant.
The subject of this particular story was an unnamed 19-year-old student at an occupational training school, who was introduced on an episode of "Beauty Colosseum" in April 2009. Suffering from a severe overbite, she was frequently the object of such epithets as deppa gaikotsu (bucktoothed skeleton). Life was no fun at all.
Some six months later, she reappeared on the show's autumn special, broadcast on October 27.
"To be frank, I was amazed," says a TV critic. "The commentators on the program were wowed, saying she looked like an 'idol.' She was really cute."
The show likes to boast that women transformed by the beauty treatment are often able to begin completely new lives. That would certainly seem to be the case here as well. From early January, blogs on the Web began mentioning an uncanny resemblance between the contestant on Ms. Wada's program and the star of an adult video titled "Can College 58," released by Prestige.
A scene shows a prim girl on the sofa of a room in a love hotel, gallantly resisting the lecherous advances of the leading man.
"I'm almost sure it's the same gal," a TV critic tells Shukan Jitsuwa. "The shape of the teeth, the eyes, nose and mouth are the same, right down to the mole at the right corner of her lips."
The contestant on Fuji TV had blubbered to the audience that she had never even had a boyfriend before her plastic surgery. How, the magazine asks, could such a virginal figure have gone to the other extreme, appearing in an adult video, in such a short time?
"After her surgery, one commentator raved, saying she was not just pretty, but extremely attractive," an unnamed source from the TV network tells the magazine. "She has large breasts and shapely long legs as well. While her face might have been a problem, this shows that she had plenty going for the rest of her."
"I suppose the sexy young guys who had ignored her in the past began taking notice," an AV critic speculates. "She was like a Cinderella who was transformed almost overnight. In the process of developing a new identity I suppose she shed her inhibitions."
With lots of sponsor-subsidized money and a little help from doctors and fashion advisors, one might say the woman of the hour was really and truly reincarnated, the magazine chuckles.

Source: "Seikei bangumi shutsuen joshidasei AV hatsubai,'" Shukan Jitsuwa (Feb. 11, page 36)
Note: Brief extracts from Japanese vernacular media in the public domain that appear here were translated and summarized under the principle of "fair use." Every effort has been made to ensure accuracy of the translations. However, we are not responsible for the veracity of their contents. The activities of individuals described herein should not be construed as "typical" behavior of Japanese people nor reflect the intention to portray the country in a negative manner. Our sole aim is to provide examples of various types of reading matter enjoyed by Japanese.