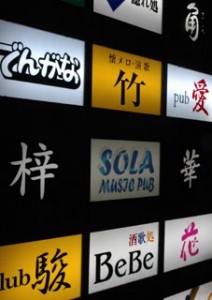 The bust earlier this month of "boy's bar" Junk #9 Powers in Tokyo's red-light district of Kabukicho is an example of the ambiguity and ongoing evolution within adult businesses in Japan, reports Nikkan Gendai (Mar. 7 and 14).
A boy's bar is the inverse of a "girl's bar," where multiple women chat and serve drinks to men from behind a long counter. The setup is a means of exploiting the Law Regulating Adult Entertainment Businesses, which views service across such a non-visible barrier to not be entertainment and legal in the wee hours. Specifically, boy's and girl's bars are masquerading as run-of-the-mill drinking establishments.
For Junk #9 Powers, which received between 50 to 60 patrons each day and accumulated 4.8 million yen in receipts monthly, the violation occurred due to guys chatting with ladies at tables in the early morning, a violation of the adult business law that requires such "entertainment" to cease at 1 a.m. Indeed, girl's bars have been under similar scrutiny.
"The boy's bar concept started about three years ago," explains fuzoku writer Yukio Kamimura. "There are more than ten in Kabukicho alone." The writer adds that such clubs have 5,000-yen entry fees and staff members dressed rather amateurishly — a move that, he says, is intended to keep police from thinking the shop is a host club. But that is just part of it.
"Boys at boy's bars are basically 'vegetarian lovers,' types who do not go all the way with a client," explains another "pink" writer, Taizo Ebina. "Drinking doesn't lead to sex, so perhaps that is what makes ladies feel comfortable in this environment."
Kamimura goes on: "Most clientele are girls who are not making much money working at soapland (brothels) and 'health' (blow job) joints. Places that cost a maximum of 10,000 yen are therefore a good match for girls with a limited disposable income. Housewives with cash from side jobs or working as public servants from ward offices, too, are regulars. They feel less guilty than had they gone to a host club."
What is interesting, Kamimura adds, is that the OLs and public servants prefer younger guys for a reason. "These ladies want to approach guys at their work places," he explains. "So they want to find out how they are being perceived."
The daily, however, explains that the nature of the boy's and girl's bars might seem inviting but caution should be maintained.
Ebina notes that the girl's bar is hard to distinguish from its kyabakura (hostess club) sister. "At a kyabakura," he says, "girls in their 20s carry out arousing conversation for 10,000 yen an hour. They falsely give the impression that a customer is going to score at the end of the night. She might say, 'If you recommend me 10 times (at this club), I'll sleep with you.' This is common sales talk."
A regular at a girl's bar chimes in with his thoughts. "At the girl's bar, the girls are OLs and students working part time," says the expert, who is an interior designer. "Given then that they are amateurs, they don't have quotas to meet."
The designer knows of a girl's bar in Nishi Azabu where entry is a mere 1,000 yen. But he also is aware of other places staffed with model-like honeys who rival hostesses in Ginza and are on the prowl for guys with fat wallets.
Nikkan Gendai advises readers to be wary of places with low entry fees. Since a customer will pay for his lady's drink and ladies often rotate from customer to customer, bills can escalate to kyabakura levels quickly.
But such places might not be around for long. Yukan Fuji (Mar. 4) interviews a police officer about the Junk #9 Powers case. "This arrest exposes the situation for the first time," says the officer. "From now, the busting of illegal shops will hasten."
Sources: "Boys bar ni tsudo ronri onna tachino seitai," Nikkan Gendai (Mar. 7), "Boys bar, host club, kyabakura, girls bar, doko ga dou chigau? Nikkan Gendai (Mar. 14), and "5,000 yen host doto…boys bar hatsu tekihatsu no ura," Yukan Fuji (Mar. 4)
Note: Brief extracts from Japanese vernacular media in the public domain that appear here were translated and summarized under the principle of "fair use." Every effort has been made to ensure accuracy of the translations. However, we are not responsible for the veracity of their contents. The activities of individuals described herein should not be construed as "typical" behavior of Japanese people nor reflect the intention to portray the country in a negative manner. Our sole aim is to provide examples of various types of reading matter enjoyed by Japanese.