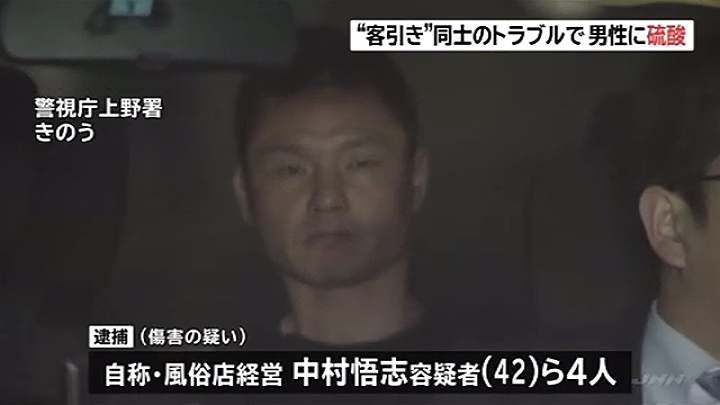 TOKYO (TR) – Tokyo Metropolitan Police on Friday announced the arrest of four men who are suspected of using acid to attack the manager of a restaurant in Taito Ward three years ago, reports Sankei Sports (Apr. 27).
On August 23, 2015, Satoshi Nakamura, the 42-year-old manager of a sex business, and the other three suspects allegedly sprayed the manager in the back and other areas of his body with acid in an underground parking lot of an apartment building.
The suspects, who have been accused of inflicting injury, deny the allegations, according to the Ueno Police Station
Nakamura formerly oversaw a street-touting ring for sex businesses in the Ueno area. He is believed engaged in a dispute with the victim over turf in the past. The suspects are also believed to have attacked an acquaintance of the victim with acid, police said.
The arrest is the second for Nakamura. Earlier this year, police arrested the suspect over a brawl between touting groups in 2015.