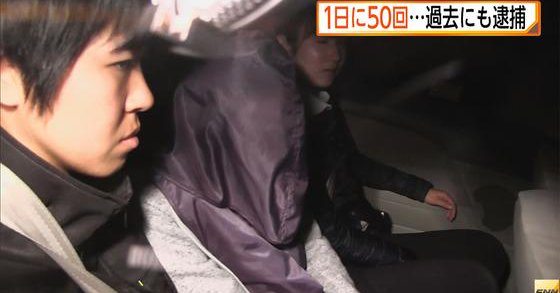 If at first your don't succeed…
On December 7, Yamanashi Prefectural Police arrested a woman for allegedly stalking the wife of a man with whom she had an extra-marital affair.
This was not a haphazard effort. According to Nikkan Gendai (Dec. 8), the suspect pursued the relationship with unmatched persistence.
Between September of last year and this past November, Miwa Takekawa, a 46-year-old resident of Kofu City, allegedly harassed the woman, aged in her 40s, with more than 2,000 phone calls. The suspect also egged the woman's residence, located in the town of Showa, seven or eight times.
"I still have jealousy," the suspect is quoted by police, according to Fuji News Network (Dec. 8).
Indeed — and not for the first time.
In 2007, Takekawa was prosecuted for making 6,400 calls to the same woman over a three-year period. She reportedly said to the victim such things as, "You had better split up with your husband" and "You should enter the hospital." Takekawa was charged with causing injury through mental anguish.
"The suspect was in an affair with the woman's husband at that time," a person with knowledge of the investigation tells the paper. "She placed between five and 120 calls a day. The woman's car also was found to have received some damage, and she started having health problems, including anorexia and dizziness."
If Takekawa, who was in her 30s when the harassment began, were pursuing a potential husband, Gendai says her actions could be construed as understandable. However, she, too, is married.
Given such odd behavior, the paper wonders about the suspect's husband. A neighbor, speaking reluctantly, said the couple moved to the area about 15 years ago.
"The husband seems to not be around much due to work," says the neighbor. "I have never interacted with them much, and since the incident I have tried to stay at a distance. I think [the suspect and her husband] are still living there together."
Source: "Meiwaku denwa 8400-kai… 46-sai sutookaa onna no shunen to furin no shinso," Nikkan Gendai (Dec. 8)
Note: Brief extracts from Japanese vernacular media in the public domain that appear here were translated and summarized under the principle of "fair use." Every effort has been made to ensure accuracy of the translations. However, we are not responsible for the veracity of their contents. The activities of individuals described herein should not be construed as "typical" behavior of Japanese people nor reflect the intention to portray the country in a negative manner. Our sole aim is to provide examples of various types of reading matter enjoyed by Japanese.